If you are battling with hemorrhoids or are a postpartum mum who just had an episiotomy, then the Pochik sitz bath for hemorrhoids is the best soothing product that you are looking for. Supporting both medium and even plus sized people, the bath will help relieve you off pain and let you heal quickly
During delivery, women who have small va-jay-jays may get an episiotomy where their birth canal is expanded to let the baby out. After this, they feel a lot of pain and they need a sitz bath to relieve the pain as well as heal their perineum. People who have hemorrhoids will also need a sitz bath to get a soothing feel down there. All these sitz baths are easily available in your local stores. Obese people though have a hard time getting an extra large sitz bath that will accommodate their plus size bodies.
Sitz Bath Basins for Obese People
We have been addressing some of the toilet problems face by extra large people. We have already looked at some of the aids they can use in wiping their bums and today, we are going to look at some sitz bath kits that they can use effectively so as to relieve pain in their perineum as well as clean up after visiting the toilet.
What is a sitz bath?
A sitz bath is when you sit on warm water that covers your nether regions and soothes pain that could be caused by anal fissures, hemorrhoids or after delivering a baby.
The word sitz comes from the German word 'sitzen' which means 'sittting'.
A sitz bath can either be taken on your bath tub or on a special plastic basin called a sitz bath basin which is placed on top of your toilet seat.
When to take a sitz bath?
Your doctor will recommend that you take a sitz bath if you are facing the following problems:
You have an anal fissure around your anus or inside your anal canal and it is causing irritation
You have hemorrhoids
You have prostatitis
You are constipated or are having a diarrhea.
After you have had a vaginal delivery and they did an episiotomy.
How a sitz bath is like?
The sitz bath basin needs to be large enough to accommodate your butt.
The water on the sitz bath needs to be lukewarm. Do not use too hot water as it could aggravate matters by burning your skin. Just get some hot water that is comfortable to the touch of your hand.
Do not add shower gel, bubble bath or any other type of soap even if medicated. However, you could add Epsom salt or pure aloe vera gel.
Sit in the sitz bath for a few minutes (Most doctors recommend that you sit there for 10 to 15 minutes). The bath water will not stop the pain but it will reduce the irritation or pain that you might have been feeling.
Once done, dry yourself with a soft towel or a hair dyrer that is set at a cool or warm setting. The sitz bath treatment should be done at least twice a day; you can also do it for four times incase you have the time.
1. Bariatric sitz bath for obese: Best Sitz Baths Reviewed
Check Lowest Price on Amazon
We found the Healthstar Elongated sitz bath basin that is extra wide as well as durable. It is therefore a great fit when you are an obese person and looking to soothe your perianal area after a surgery, hemorrhoids or anal fissures.
Features of the Healthstar Elongated sitz bath
Extra Wide bowl
Elongated Shape
Great even for oblong toilet seats
Has a solution bag to use for treatments
2.Medline sitz bath
Check Lowest Price on Amazon
Undoubtedly the best sitz bath for hemorrhoids, this sitz bath is big enough to fit in your elongated oblong toilet seat. It is also durable and so when you buy it, you are assured of the value for your money. Buyers who choose the Medline said that they had just had hemorroidoctemy and were therefore looking for something that they would be using daily to soothe their perineum. The medline, they said had not failed them in this.
What we loved about the Medline sitz bath
-Large enough for bariatric patients
-Best option for people with hemorrhoids and are looking forward to something that will soothe their pain.
3. Carex sitz bath
Check Lowest Price on Amazon
The carex sitz bath is an ideal fit for women who have just gone through an episiotomy (surgical incision of a woman's perineal area so as to enlarge the vagina to allow a baby pass through) and are recovering. It has contoured edges which post-partum women say it provides relief and comfort while doing a warm bath on the perineal area. Other than the basin, it also comes with a tube and a solution bag where you can put Epsom salt, lavender, baking soda or vinegar for added relief.
What we loved about it
Fits perfectly in the toilet seat
Comes with an on and off control clip to regulate the solution in the bag
Contoured edges give post-partum mothers comfort
Large enough for you to sit in
4. Lifevv Sitz Bath For Hemorrhoids and Recently Delivered Mothers
Check Lowest Price on Amazon
The Lifevv sitz bath describe themselves as having the most tenacious sitz basin that will not break easily owing to their sturdy plastic materials. We however decided to try out whether this was true or if it was just a big fib. So we headed over to amazon where they were selling the basin and bought it. And true to their words, the basin is hard enough though I am not sure that it has it a life-time guarantee of not breaking up. This could just be another marketing gimmick.
Anyway, the basin is good for people with really hurtful hemorrhoids and they are looking for something that they will be sitting on for 10-15 minutes to relax and get a soothing feeling. Women who have just delivered will also find this basin indeed great for them, especially those who have had a really painful episiotomy and are looking to heal.
What We loved about the Lifevv sitz basin
Tough plastic material that will last for a long time.
Will fit into just any commode chair or toilet seat that you have
Easy to clean due to the plastic material
Unique vent design so that you can easily drain it away
Comfortable to sit on.
5. Lumex Sitz Bath for Obese: Comes with Bag and Tubing
Check Lowest Price on Amazon
Probably the most affordable sitz bath for obese that you will ever find out there, this Lumex basin comes with a graduated water bag and tubing; all at an crazily small price. However, owing to the low price, do not expect it to last for long. And neither were we seeing that its price was barely $10.
What we Loved about the Lumex basin
Crazily affordable price and therefore making it a great purchase for people on a low budget.
Comes with graduated bag and tubing so that you can add solutions such as epsom salt, lavender or aloe vera to your bath water. The tubing allows for easy regulation of the treatment solution.
What we did not like about it
It does not last for long. After some years, it got a crack and we could no longer use it.
5. Extra Large Soothic Sitz Bath For Fat People
Check Lowest Price on Amazon
Developed by an obese Aussie, the Soothic sitz bath should be on your lips if you are having hemorrhoid and looking for a sitz basin to help you relieve the pain. Extra large and comfortable, it makes a great toilet companion for all fat people.
What we Loved about the Soothic basin
Large enough
White in color and so will fit in just any toilet background.
Disposable travel sitz bath
Lets say that you are travelling and would want an easily portable sitz bath. What options do you have? Well, Amazon has these easily portable travel sitz bath that you can use. They are flexible enough so that you can carry them in your bag or even pocket without anyone knowing what you are carrying with you.
One of these travel sitz bath that I tried while camping with friends during my last August holiday was the Ano-sitz bath kit.
Ano Sitz bath
Check Lowest Price on Amazon
Ideal for camping, the ano sitz bath kit comes with 6 disposable sitz bath basins as well as 6 packs of Epsom salt solution that helps soothe your skin while taking the sitz bath. Once you are done with the basin, you can easily toss it away and use another for the next bath. The basin is large enough to accommodate large people and can fit in even elongated oval toilet seats. Undoubtedly the most affordable that you can ever baragin for, the only downside that I found with the Ano kit was the pungent plastic smell of the basin especially when you add warm water to it.
Pros of the Ano sitz bath kit
Very affordable with 6 basins and 6 epsom salt packs
Can fit in elongated toilet bowls
Great for obese people.
Epsom salt soothes you from hemorrhoids or postpartum pain that you might be experiencing.
Cons of the Ano sitz bath
Pungent plastic smell especially when you add hot water to it.
Vagi sitz bath
Check Lowest Price on Amazon
Another equally affordable travel and disposable sitz bath kit is the Vagi sitz basin. Initially manufactured to help people with vaginal related discomforts, the Vagi can be used by people with vaginal discharge, postpartum pain as well as vaginal odor or dryness to help soothe them. Some ladies have actually been using it for yoni steaming with good results.
Pros of Vaginal sitz bath
Very affordable since it comes with 8 basins
It can be carried discreetly while travelling
Fits in all types of toilet bowls.
Additional Enhancements that can be used when taking a sitz bath
Most people will use solutions such as epsom salt, lavender, witch hazel and aloe vera to their warm bath water solutions to enhance the soothing effect that they want to feel when curing their hemorrhoids, prostatitis, anal fissures or pain caused after an episiotomy. One however need to consult their doctor before adding these solutions so that the doctor can advise on their efficacy. Other than getting seated, one can also use sitz bath shorts which have been found to be a great alternative for people who do not want to take the sitz bath from a sitting position, maybe because they have just had a back surgery.
Other than the use of warm sitz baths to relieve pain in your prolapsed piles, you can adopt this healthy sitting positions using these donut cushions.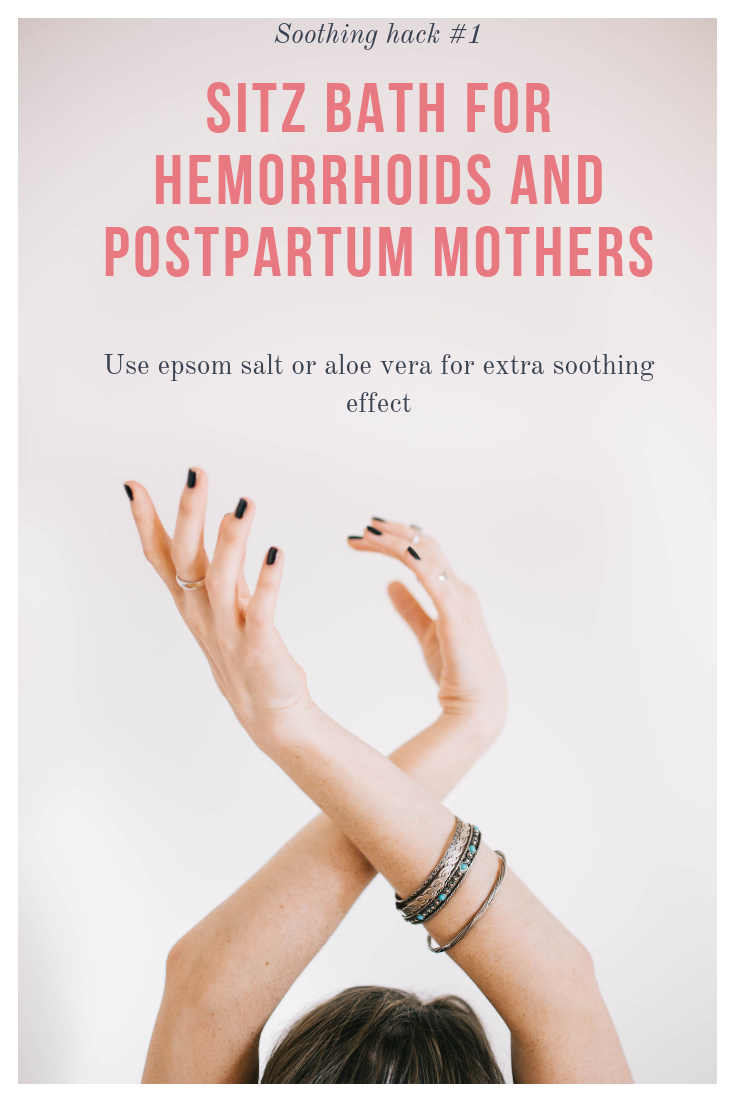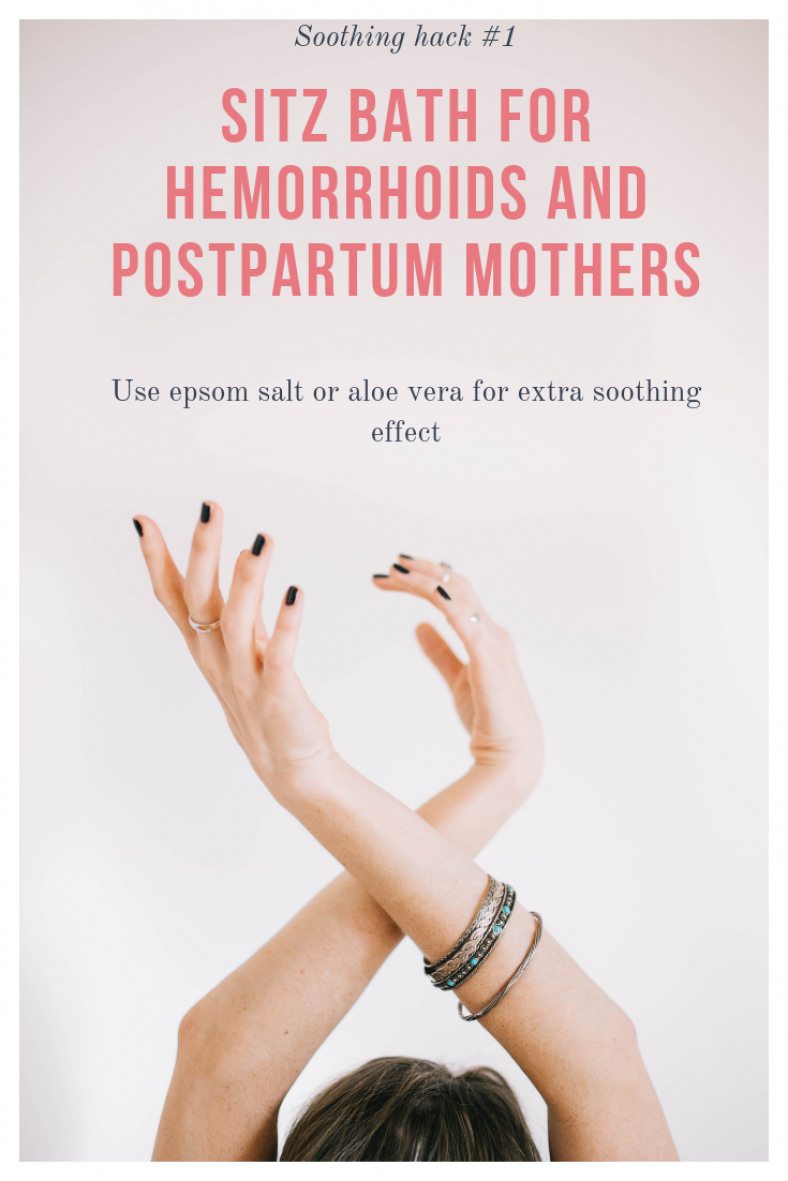 We also found out that you can soothe your hemorrhoids with these best toilet paper sprays.