If you are looking for a butt wiping aid that will help you reach your bum easily then the Bottom Buddy is what you really need. Measuring 15 inches, the Buddy gives you that extra hand extension you are desperately looking for. It is durable, flexible plastic, has a soft head that goes into your bum cheeks without hurting you, holds the tissue nicely and firmly and the release button lets go off them when you are done.

[content-egg module=Amazon template=custom/simple_list]

-Holds Tissue
-Holds Wet Wipes
No Shaver or Length Extender
-No Travel Bag
-Measures 11 inches long
-Below $40
Freedom wand and Bathroom Toilet aid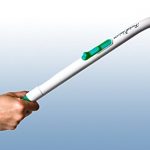 -Holds tissue
-Holds Wet Wipes
-Can be used for washing
-Can be used for ointment application
-Has shaver and length extender
-Measures 21 inches
-Below $60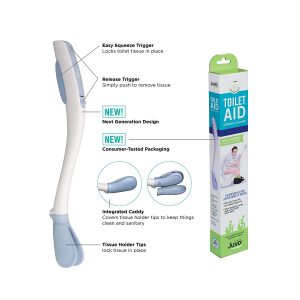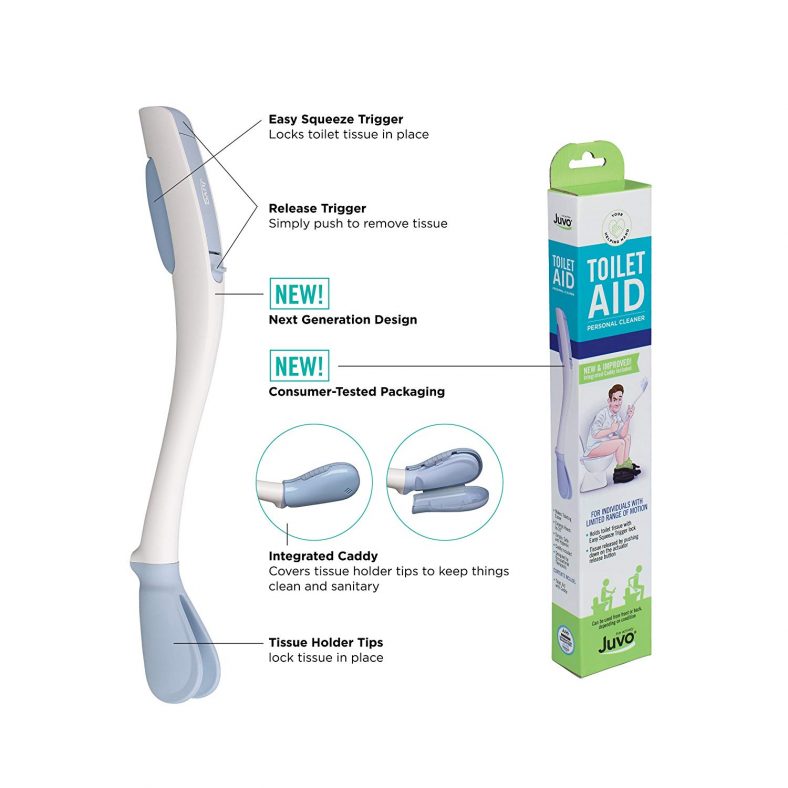 -Holds Tissue
-Holds Wet Wipes
-No shaver or Length Extender
-Measure 20 inches
-Comes with caddy for storage
-Below $30
While you and I might feel that wiping our bottoms after visiting the toilet is such a simple task and no one should blog about it, there are some people who have such a hard time wiping their bottoms after emptying their bowels. They also not able to reach their backs while washing or shaving their legs since they cannot reach.
Question: Have you ever wondered how the morbidly obese people are able to wipe their butts? Ever wondered how pregnant women in their third trimesters are able to go to the bathroom and still maintain hygiene despite the large bump? Other than these two groups of people, there are people who have undergone back surgery and after the operation, they find it hard to reach their bums. Others find that they just have too short arms to reach their perineal areas. So, how would such people wipe themselves?
Personally, I have seen obese, handicapped and aged people really hating the thought of going to the toilet because they are not able to wipe their butt afterwards. Their arms are just too short to reach. And this makes them stink. And feel bad that they are helpless.
But hey, they need not feel helpless because in this page, we will review some of the best bariatric wiping aids for obese, handicapped and aged people. Here we go:
Top 5 Butt Wipers for People who cannot reach their Bums
Toilet Aid for Obese
Length
Versatility
General Comments
Freedom Wand
21 inches
--Can be used as a toilet wiper.
--Can be used for shaving
--Can be used for bathing
--Can be used to hold ointment pads
#Best Butt Wiper Out of all the Others
Bottom Buddy
11 inches
--Only used as toilet aid for obese
#Best for Obese People
Juvo Toilet Aid with Caddy
18.2 inches
--Only used as a toilet paper extender reach
#Best for Elderly with limited mobility, after back surgery or hip replacement
Buckingham Pocket Easywipe
15 inches
Only used as device to help yourself wipe bottom
#Best for fat people who love travelling
Sammons Preston Toilet Tongs
15 inches
--Only used to hold tissue to wipe bum
#Cheapest Product
The table above shows the top toilet paper assistive devices that obese, elderly and handicapped people can use to reach their butts
Obesity is a big health issue in Australia and they are busy searching tools which are wiping aid for obese in Australia. Well, the freedom wand would be a great tool for them. It is long, versatile and durable.
The bottom buddy is undoubtedly the most popular toilet wiping aid for obese owing to the retractable tulip petals that hold tissue, the soft round head that does not hurt your butt and the 11 inches length. It can also be used by patients on wheelchairs, those using commodes or generally any disabled person.
The buckingham tool is a great tool for travelers who are having trouble reaching their perineal area. This device to help wipe bottom has been popularized owing to its ergonomic design for people with limited dexterity.
After the bottom buddy, juvo toilet aid is the second most popular with its ergonomic design, caddy to hold the tool as well as the affordability.
Another device to help elderly wipe, the Maddak SP ableware tool has a good grip on toilet tissue and is durable making it popular among the elderly having trouble wiping their bums.
Buy on Amazon
Other than their awesome wiping aid tool, the guys at freedom wand have gone ahead and figured out that other than having a hard time wiping your bottom, you might also be experiencing trouble bathing and so, they have included a shower loofah, shaver and ointment pad in their one package.
The tp wiping aid measures 21″ which is undoubtedly the longest that you can ever get. You can see why I love it here at freedom wand reviews
How to use the freedom wand bottom wiper for obese
1.Use the desired length of the wand by extending it or just using the head only.
2. Roll out enough tissue or wipes on the wand head.
3.Wipe your bottom.
4. Release tissue with the push button.
Pros
♠Four products in one pack
♠Long enough to reach
♠Comes with a bag incase you are travelling with your tissue paper aid tool.
Cons
○There were complaints that it would not hold the tissue paper for long before dropping but with me, everything was great. It held tissue and wet wipes with a firm grip.
○It has a premium price.
According to Amazon, the Bottom buddy is the best seller wiping aid for obese people owing to its ergonomic structure, sturdy material, soft head so as not to hurt your cheeks and ideal length so as to reach with ease.
Click for Lowest Price on Amazon
Are your arms too short to wipe?
When you have short arms that will not reach your back after visiting the toilet, the Bottom buddy is here to help you.
11″ long and with a curved handle, the bottom buddy has a soft head where you place tissue rolls or wet wipes and then direct it to your butt to hygienically clean it. It has a push button that helps you to release the tissue roll or wet wipes after cleaning your bottom.
The Bottom Buddy also comes with a travel pouch so that you can carry it along with your other luggage when going out.
How to use the bottom buddy wipe aid
1.Unroll out enough tissue or wet wipes onto the 3 soft pronged head.
2.Pull back the tissue which will cover up the head
3.Use it to wipe your butt
4.After thorough wiping, release the tissue using the press button.
Pros
For people suffering from obesity, are handicapped or have short hands, the Bottom Buddy helps them maintaining dignity and hygiene.
♠Has a long enough handle to reach out
♠Thin and soft head that does not hurt your bottom cheeks
♠Comes with travel pouch
♠Good for cleaning up after number one or number two toilet use
Cons
○There were complaints by some customers that their handles or rubber parts broke off after short use
Bottom buddy butt wiper review
Going through Amazon reviews, I found out that the bottom buddy butt wiper has the best rave reviews ever that you will find among all the other products. I sampled some of the reviews here
Having spine surgery in the future and since I know that I will not be able to wipe my butt afterwards, I bought this bottom buddy to use and get acclimatized to it. Long enough and gentle on my butt. I use it with

cottonelle wipes

. Though one could as well use

toilet tongs,

if you can afford it, go for the bottom buddy.
I am rather a huge fella and having back issues. It is durable and have bought two; one for home and other for office. Why kill my back while there is this great product to clean up my perineal area.
 Definitely worth the money. Nobody wants to talk about their bathroom needs after a surgery that left my arm in slings. Though I only needed it for just two weeks, I did not need anyone to clean my butt when my arm was in slings.
Buy on Amazon
Measuring 15″ which is slightly longer than the Bottom buddy, the Buckingham Easywipe wiping aid for obese comes with a soft head where you can attached tissue paper rolls or even pre-moistened wipes to clean your butt.
After wiping, you need not touch the soiled tissue since it has a push button that helps you push away the tissue releasing it into the toilet
How to use the buckingham easywipe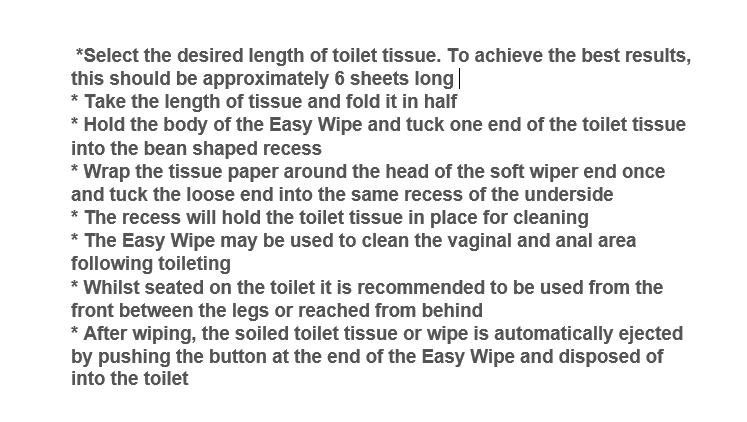 Pros
♠Long enough to reach your bottom even if you have short hands
♠Soft head that does not hurt your body
♠Push button to release dirty tissue
Cons
○There were complaints that the handle folded after some use.
○ I felt that the price was a little prohibitive.
4 in one butt scrubber
The four in one butt scrubber measures 17 inches long meaning that it will be able to reach out those areas that you were unable to reach with ease. Other than wiping your butt, it can also be used in applying medical ointments in the private areas for people having rashes or bacterial infections.
It is also used for cleaning those hard to reach areas for people with old age, are handicapped or just too obese to be able to reach those places.
Pros
♠It is a multipurpose device that can be used to clean up unreachable body parts, apply ointment to your body, as a butt wiping aid when you wrap wet wipes around it. And what's more, you can use it to scratch up your body.
Cons
○It is a little bit too sharp and one would need to be careful when wiping or washing their delicate parts as it could cause injuries and cuts.
○Not very suitable for butt wiping as I did not get one with a push button to release wet wipes. The grip is also not very good.
Buy on Amazon
The juvo bottom wiper is another great invention by Juvo for guys having reaching troubles. It has an easy trigger that grips or releases the tissue paper or wet wipes with ease. The handle is designed in such a way that it can be used for both front and back wiping strokes.
Pros
♠It restores the dignity of my elderly such that they do not have to feel bad about calling everybody to come help them wipe their butt
♠Long enough to reach the perianal area with great ease
♠Portable in case you are travelling
Cons
○There were complaints that the product is quite flimsy and would break after short use. At the same time, some customers felt that it was not obese friendly as it would end up hurting their perianal area as they tried to wipe themselves.
Peter D says: Highly recommended. Had arthritis and could not wipe myself. My wife was sympathetic and researched. Found the juvo and is a great ass wiper that I highly recommend.
SP Ableware Self-Wipe Bathroom Toileting Aid (641-2506-2000)
Buy on Amazon
The guys at SP Ableware describe this self wipe toilet aiding tool as the best bottom wiping aid that is comfortable for those having trouble bending, are handicapped or obese.
It has a smooth round designed head made of sturdy material that will not break easily.
Cons
○The self wipe toilet aid would not use wipes since they are too small to go round it
Long reach Comfort Wipe Toilet Aid
Undoubtedly the cheapest bottom wiper for bariatric patients on a low budget, this tool is cheap, lightweight and easy to use. It however will break easily and might not offer you value for your money
Pros
♠Measures 15.8 inches in length which is a good length to reach out your butt in case you have short arms
♠Cheap
Sammons Preston Toilet Tongs
Toilet tongs can also be used by handicapped people who might have just had a back surgery to wipe their bums. The Sammons Preston tongs resemble your normal kitchen tongs, only that they are more gentle and thin so that they do not hurt your skin as you wipe. Measuring 15 inches in length, these toileting tongs are a great purchase for people with limited motion, are too fat. They are also lightweight and hold the tissue paper tightly.
The only downside of the tongs was that people were a little bit scared to have tongs coming anywhere near their butts and were therefore content using the bottom buddy.
What we loved about the Sammons Preston tongs
Very affordable
Lightweight
15″ long
Tight grip on tissue paper
What we did not like about the tongs
Quite feeble and will break easily
Seems intrusive and so most patients are scared to use them.
Blue Jay Toilet Wiping Stick
Equally affordable, sturdy and durable is the 15″ blue Jay toilet wiping stick that is a great fit for elderly and people who have had hip replacement. The stick comes with a release button which you press on to dispose used tissue paper. It is easy to use and restores the dignity of the elderly when they see that they do not have to rely on anybody to wipe their ass.
What we Loved about the Blue Jay wiping stick
Tissue release button
Affordably cheap
Measures 15″ which is long enough for someone with hip replacement to reach their butt with ease
Restores the dignity of the user
What we did not like about it
Can only be used to wipe butt
Torkel Toilet Tissue Aid
Torkel toilet tissue aid is one of the best wiping aids for toileting that we recommend here at Hosiped. The Torkel aid measures 25 cm, is very sturdy and durable.
What we love about the Torkel
Very sturdy, will not break
Affordable
What we do not like about it
Since it is a hygiene item, you can never return it if dissatisfied
It looks a bit intrusive and people might be scared to have it on their perineum
How to wipe your butt using the wiping aid tools
Unroll the needed tissue paper or wet wipes
Place them carefully on the head of the wiping tool
Fasten the hold on the head so that the tissue or wipes are held firmly
Direct the tool head with tissue on it towards your bottom.
Wipe yourself clean
Remove the head from your bottom and direct it towards the toilet hole
Release the tissue or wipes using the push button.
NB: The longer the tool, the more pressure you will need in wiping your butt
To whom are these bottom wiping aid tools made for
The wiping aid tools are not meant for those patients who are totally immobile or have trouble visiting the bathroom.
They are meant for the following classes of people:
Obese
Handicapped
Disabled
Arthritis patients
Elderly
Pregnant women
Anyone with short hands and not able to reach their bottom.
Failure to wipe your ass in the right way may lead to accumulation of feacal material around your anal area. This leads to irritation and could also lead to accumulation of bacteria which would lead to an infection.
According to verywellhealth, people who do not wipe their butts well always find themselves going to the doctor due to UTIs as well as irritation and  pain around the private parts.
In case you have a cut or are bleeding around your anal areas, you should avoid using these toilet aids as this could lead to more hurt and aggravation of the cuts.
There has also been a great debate on whether to wipe your butt using moistened wet wipes or tissue paper. While most people feel that wet wipes are better, there are those who want to still hold on the traditional tissue paper. I think it all depends on ones choices as long as what you choose does the job well, then continue using it.
Things to Observe When Using Tools to Help Reach Your Perineal Area
You are to always clean the butt wiper after every single use.
Always wipe from front to back
Do not share the toilet aid with anybody else whether they are your spouse, sibling, parent, child or friend.
If you are using a multipurpose tool, clean it with a disinfectant before it touches another body part.