Turn your Toilet Paper into Wet Wipe
[/vc_row]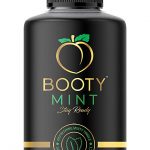 Booty Mint Toilet Tissue Moistener
Clean smell
Leaves no poop skidmarks
Long lasting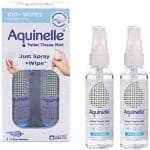 Over 300 sprays per bottle
Dermatologist tested.
Skin Non irritant
By now, we all know that dry toilet paper does not really work well in wiping your bum after a number 2, does it?
For one, dry toilet paper does not leave you feeling really clean and sanitized. Heck, it could even leave poopy skid marks on your briefs or pants.
| Paper Moistener | Product Image | Ingredients | Skin Irritability | Who to use |
| --- | --- | --- | --- | --- |
| Pristine Toilet paper Spray | | Aloe vera, Witch hazel, Coconut oil, Apricot oil, Vegetable glycerin, Ylang ylang essential oil | None | Both adults and kids |
| Booty Mint toilet tissue mist | | soothing coconut oil, witch hazel, minty scent, glycerin as well as aloe vera | Irritable to baby skin | Adults |
| Wipegel Toilet Paper Mist | | witch hazel, water,carbomer, prebiotic blend, almond scent | No skin irritation | For adults especially those with hemorrhoids and want a soothing effect as they wipe |
Low quality toilet paper has also been found to be a lead cause of UTI in women, anal fissures as well as chaffing. I am yet to mention that it will leave you having a bad fecal odor! Now nobody wants this.
And that is why, everyone is running helter skelter looking for alternatives such as flushable wipes, family clothes or even portable bidets.
But for you my reader who still believe that the good old toilet paper still stands a chance and that is why you are here looking for the best toilet paper spray, we will give you just that.
In this article I explore toilet paper sprays that moisten dry toilet paper and transform it into a wet wipe that is going to leave you well sanitized, smelling clean and feeling good throughout the day.
Well, we have you covered because in this article we review some of the most popular toilet paper spray that are worth your dollars. So buckle up and enjoy the ride!
5 Best Toilet Paper Sprays for You
In our quest to write the best review on toilet paper mists, we bought 5 different mists and put them to the test. Below here is the list in order from the most loved by our reviewers.
#1. Pristine Toilet Paper Spray| As seen on ABC's Shark Tank
Check Lowest Price on Amazon
You probably watched that episode of ABC's Shark Tanks when this duo came up and said that they are going to revolutionize how the world wipes their bum. They had pristine toilet paper spray as their product and they went on to pitch their idea much to the delight of the sharks.
Well, the pristine spray as we found out is indeed a great idea and product as presented by the Karam cousins. The butt spray can be used directly on your bum, on a toilet paper or on a washcloth if you are using it to clean your baby. Pristine as the company advertises is to your bum what shampoo is to your hair.
After trying it out, we found that it is non irritating on your skin and leaves you clean and with a good fresh scent so that no one would know that you just visited the washroom for a number two, were they to sniff your pants!
Pristine is made with the following organic and hypoallergenic ingredients:
Aloe vera
Witch hazel
Coconut oil
Apricot oil
Vegetable glycerin
Ylang ylang essential oil
As you might have guessed, any good toilet paper spray recipe should include natural ingredients that are not going to be any harsh on your bum skin.
Positives
Flushable–You need not worry of clogging your septic system or municipal drainage line
Organic ingredients that are non-irritant on your bum
Long lasting especially if you buy the 4 ounces bottle which is equivalent to 200 wet wipes
Negatives
Some people complained that the spray soaks the tissue paper so much that your fingers goes in touching your poop and ending up smelly.
[/wpsm_column]
Why use pristine toilet paper spray
Toilet paper spray leaves your bum clean and smelling flesh
The liquid is delicate and does not affect your bum. It is dermatologist tested and found to be hypoallergenic
They are good even on your kid's bum and you could use them when you are potty training and do not want those diapers that cause rashes on the lilo champ's or angel's butt.
Toilet paper spray is flushable and so you need not worry about it blocking your septic system.
#2. Aquienelle Toilet Tissue Mist
Check Lowest Price on Amazon
On their website, the guys at Aquienelle toilet tissue mist market their product as one that will transform any toilet tissue into a fresh experience. They go ahead to list their various types of mist including ocean breeze, citrus burst, coco beach, rain forest, island mist and pink grapefruit.
Well, I felt compelled to use the pink grapefruit variety owing to its feminine name.
How it works is that you will spray the mist onto folded toilet paper and go ahead to wipe your bum like you would normally do with wipes. I used cottonelle tissue paper in my case since I had seen reviews online that you need good toilet paper to use with it, lest you have browny smelly hands at the end of it.
You will leave the toilet feeling clean and with an awesomely feminine grapefruit scent (I do not know about the other varieties).
Positives
Just like the Pristine spray, it is dermatologist tested and will not irritate your skin or that of your child.
Leaves you with a clean flesh smell
Flushable, so no need to worry about clogging your septic system
Negatives
Not for use with low quality tissue paper as it really soaks the thing up
[/wpsm_column]
#3. Booty Mint Toilet Paper Gel
Check Lowest Price on Amazon
Another popular toilet paper moistener is the Booty Mint that as the name suggests, leaves you with a mint scented butt. Quite comedic, right? Well, I tried it because I really wanted to find out whether my butt would be smelling like chewing mint when I was getting out of the washroom.
Well, it did!
Booty mint is made with soothing coconut oil, witch hazel, glycerin as well as aloe vera. Rather than waste your dollars buying flushable wipes that will never indeed flush away, it is better to have your butt minty!
Positives
Can be used on your perianal area without your risking getting yeast infection on your lady parts or an irritation on your balls.
Does indeed flush
The bottle sprays a thin mist that is enough to wet your tissue without soaking it too much that it become soggy and unusable.
Negatives
The mint scent might not be everyone's cup of tea
[/wpsm_column]
#4.Wipegel To Turn Tp into Moist Wipes
Check Lowest Price on Amazon
The one thing that attracted me to the Wipegel moistener is the claim that it would turn toilet paper into a flushable hemorrhoid wipe. Well, I was going through a difficult stretch of time trying to heal my hemorrhoids with all forms of sootheners and it seemed that it was not really working.
So I decided to give it a try.
And I loved it.
What wipegel does is that it transforms your dry toilet paper into a great wipe that will soothe your hemorrhoids. This is because it contains witch hazel, water,carbomer, prebiotic blend as well as give your bum a flesh smell of almonds.
Now who does not love that?
Positives
Turns your TP into truly Flushable wipes
Cleans well and leaves you with a sweet almond scent
Great for soothing your hemorrhoids
[/wpsm_column]
Why toilet paper spray is better than bidets, flushable wipes and family cloths
You might be wondering why we would recommend that you should turn your toilet papers into wet wipes. Why the heck not just buy wet wipes off the shops. Amazon actually has loads and loads of flushable wet wipes.
Well, the truth is that most of the flushable wet wipes being advertised are just flushable in theory. When you get to buy and use them, you realize that you were scammed since most are not septic safe and could get you into the bad books of your municipal council. They are non-biodegradable and as a good citizen, you do not want to add more hazardous waste into our environment, do you?
The proponents of family cloth say that it wipes your bum well. And indeed it does especially when you wet it with some water. But who really wants to have a load of filthy washcloths full of poop in their laundry room? That place will smell so bad. Simple answer: no one.
Now bidets are cool to use but most guys in the Western countries are simply not used to them. While guys in Japan, India, China and Korea are very open to bidets and have been using them for the longest time ever, we in the US, UK, Canada and Australia want to use the good old toilet paper.
So toilet paper spray is our good way out.
Check out diy toilet paper spray