Weighted Blankets for Anxiety and Insomnia
Patients with Parkinson's disease have to battle with dyskinesia which are abnormal, uncontrolled involuntary movements of the arms, legs and even the head. Dyskinesia looks like fidgeting, writhing or body bobbing. To control the condition, you are asked to change your drugs.
Dyskinesia can also lead to anxiety as well as uncontrolled movements in bed when you want to sleep.
A weighted blanket feels like getting a calming deep hug that gets you to sleep soundly

Hosiped
So Parkinson's patients are looking for the best weighted blanket for anxiety and insomnia. In this post, I will review some of the weighted blankets that some of the adult patients have used in our caregiving home and what they felt about them.
Should you use weighted blankets?
Weighted blankets ought to help alleviate stress and therefore help you sleep more. Dr and CEO of ClockCoach, Irina Zhdanova says that weighted blankets give you a hugging experience. They make you feel as though there is someone hugging you and this has been attributed to giving you a calming effect.
" When you are hugged, you feel more secure," she says.

Irina Zhdanova
Medically speaking, a research on how pressure can alleviate pain and stress was conducted in a group of people who were having their wisdom teeth removed. Now, the removal of a tooth has been shown to be one of the things that make you stressed out, anxious as well as nervous since dentists use sharp and highly invasive tools.
When patients were wrapped in weighted blankets though, it was found that they felt less stressed, anxious or nervous.
Other than giving you a calming effect, the sheer weight of upto 15lbs restrains your movements and as such you find that you fidget less and the effects of dyskinesia are less felt.
Children and Weighted Blankets?
Though the American Journal of Occupational Therapy did a study that showed that wearing of weighted vests made school going children fidget less and be more attentive in class, weighted blankets have their downsides.
They are for example too heavy and hot such that the kid might sweat so much in bed. If the child has sleep apnea or snores, you should not put them under an anxiety blanket since it will only make the matter worse. Alternatives to these blankets could be weighted compression vests for toddlers and sensory lap pads.
The other downsides of weighted blankets
The Heat and Air
Weighted blankets are hot and you will throw it away when the weather in your area is hot. At the same time, you might suffocate if the blanket is not breathable.
The Noise
When buying a weighted blanket, be ready for the noise since they make so much noise when you move it or lift it. The pellets and beads will make so much noise that you need to be accustomed to.
The Movememt of Pellets/Beads
Weighted blankets are usually made with plastic pellets or glass beads that make them heavy. These pellets or glass beads usually move when you adjust or lift the blanket and it could cause dislocation that makes the blanket weighted on one side and not on the other. The blanket might also break at the seams pouring the pellets and this would be a mess.
So which are the best weighted blankets for anxiety and insomnia?
GnO Solutions Gravity Weighted Blanket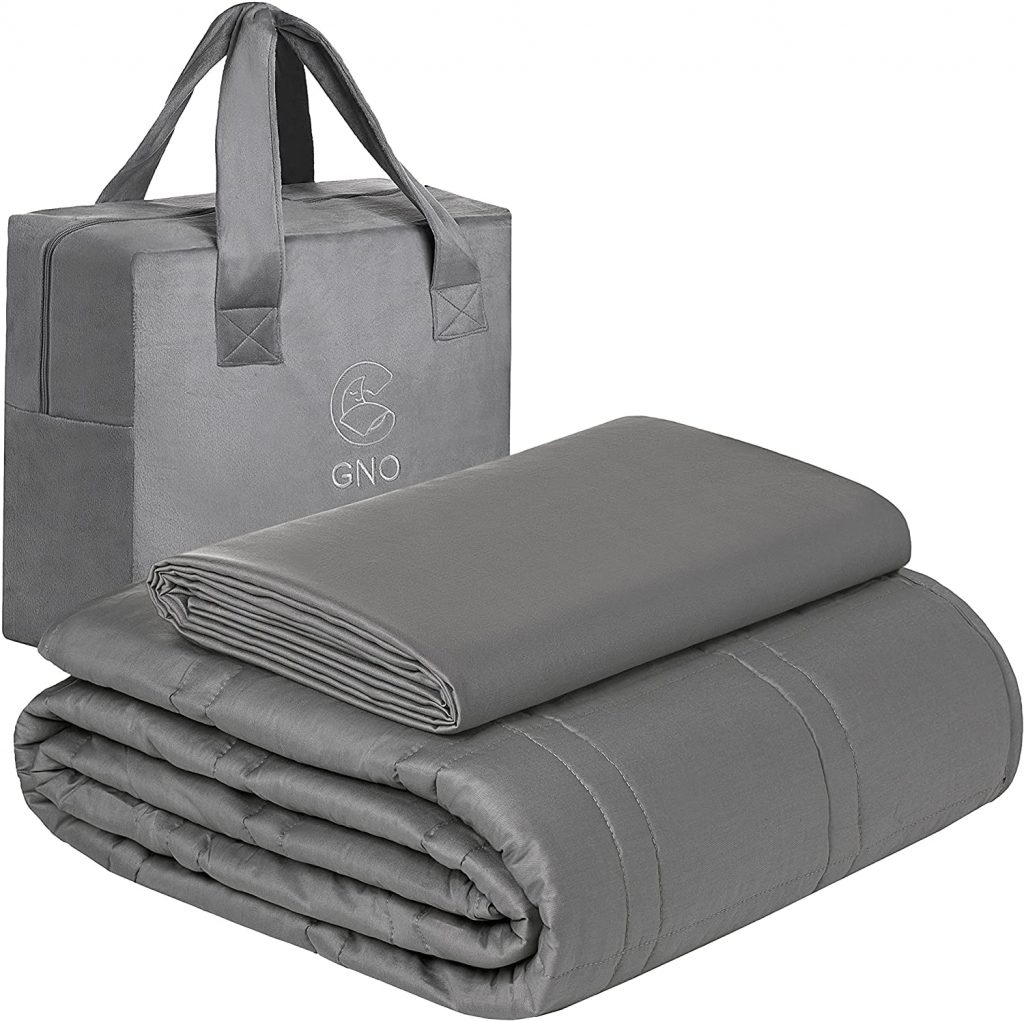 This weighted blanket that comes with a bamboo duvet and plush bag for carrying around has been described as the best gift that you can give to someone with Parkinson's Alzheimers, ADHD or any anxiety related ailment. The manufacturer goes ahead to praise it saying that it feels like one big hug when you are sleeping under it. So, we went ahead and ordered the blanket for one of our patients and this are some of the things that we liked about it.
What we liked it

♠Breathable fabric such that the person sleeping under it would not feel as though they were suffocating
♠As the manufacturer said, it feels like a big hug when you sleep under it
♠The involuntary fidgeting reduced considerably.
♠The blanket was very soft and our patient could not wait to have it on his body
♠The blanket was odorless and hypoallergenic
♠Machine washable
♠Comes with a plush gray bag that eases portability. Also has a duvet cover made with 100% bamboo
♠The person was able to sleep for long hours before waking up. He was also in a good mood during wake up periods.
♠The support team at Gno Solutions were very helpful and resourceful in answering some of the questions we had about weighted blankets. I would give them a 5 star rating for being so resourceful and tactful throughout the whole purchase thing.
What I did not like about it
♦The price was rather inhibitive and high but all in all, we were glad when we saw that our patient was getting better sleep and was less anxious in the morning.
♦There were only two colors to choose from: black and gray. Would have loved to have a wider range of colors to choose from. Especially more feminine colors would do.
Quility Weighted Blanket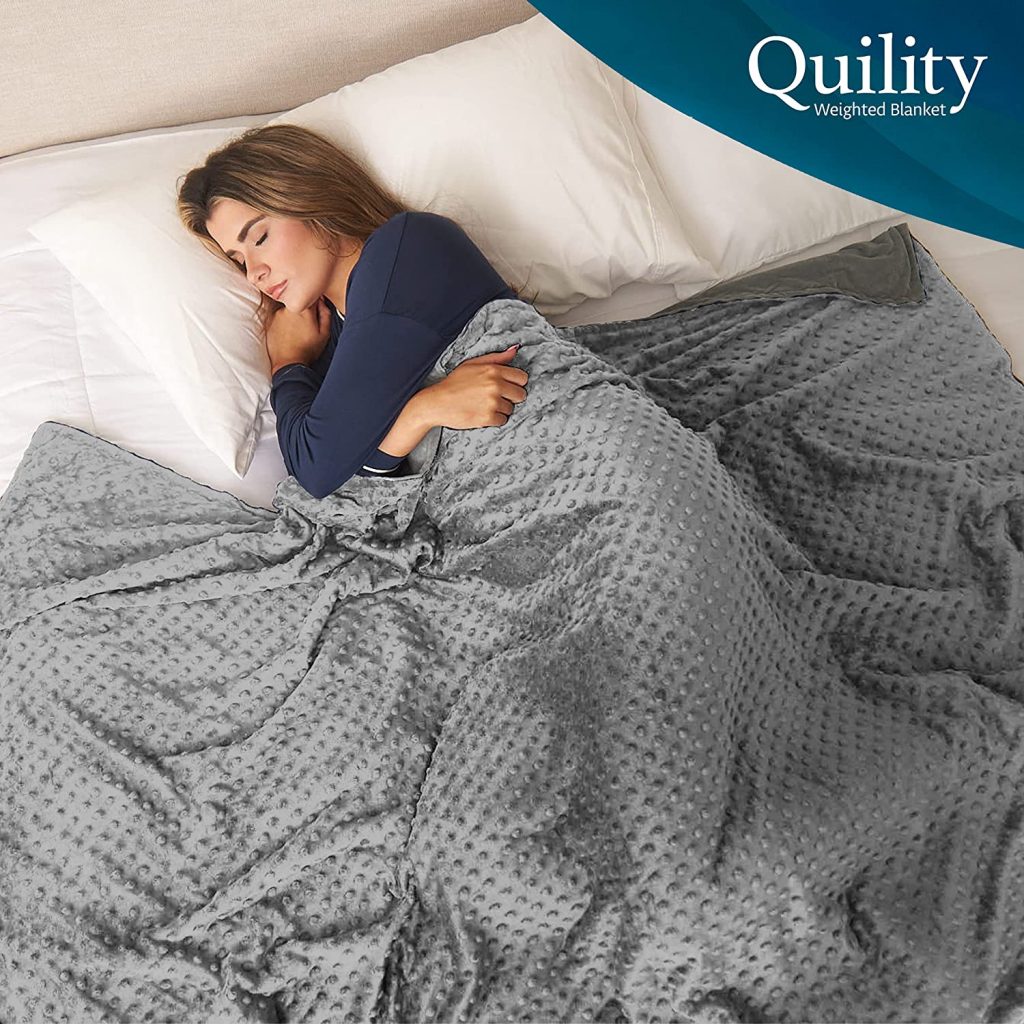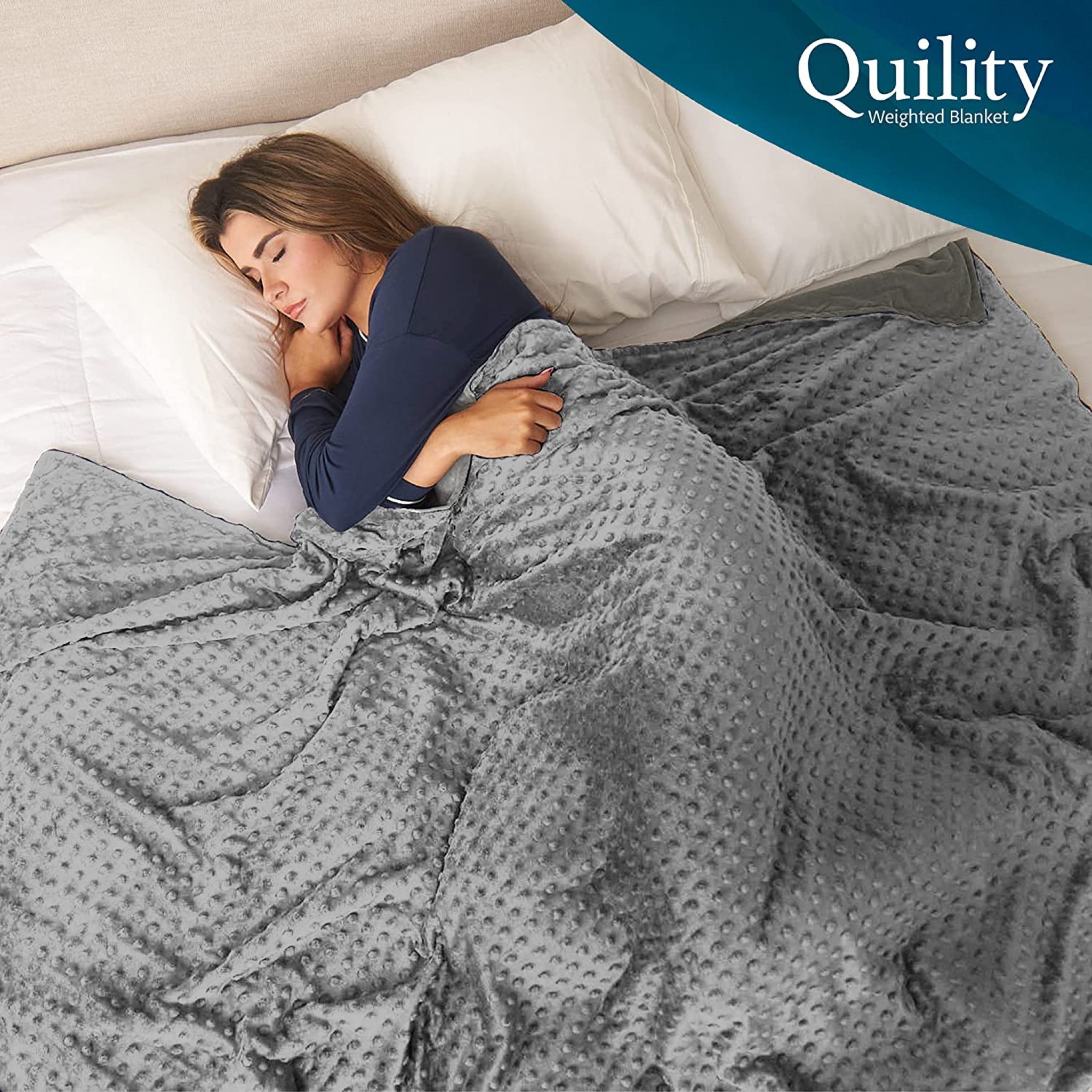 The Quility weighted blanket will endear itself to you because of the soft material that promises you of restful and peaceful nights sleeping under it. It is highly breathable and you therefore need not fear of suffocating under it. They are made with hypoallergenic plastic pellets that are heavy such that you are able to sleep under it feeling as though someone is hugging you. This has been found to reduce anxiety.
What we liked it

♠8 ties to hold the weighted blanket without sliding away
♠Hypoallergenic
♠Feels as though someone is hugging you
♠Great for PTSD and Parkinson's dyskinesia
What I did not like about it
♦Some customers on amazon complained that their weighted blanket broke on the seams and some of the beds started missing.
Calmforter Premimum Weighted Blanket for adults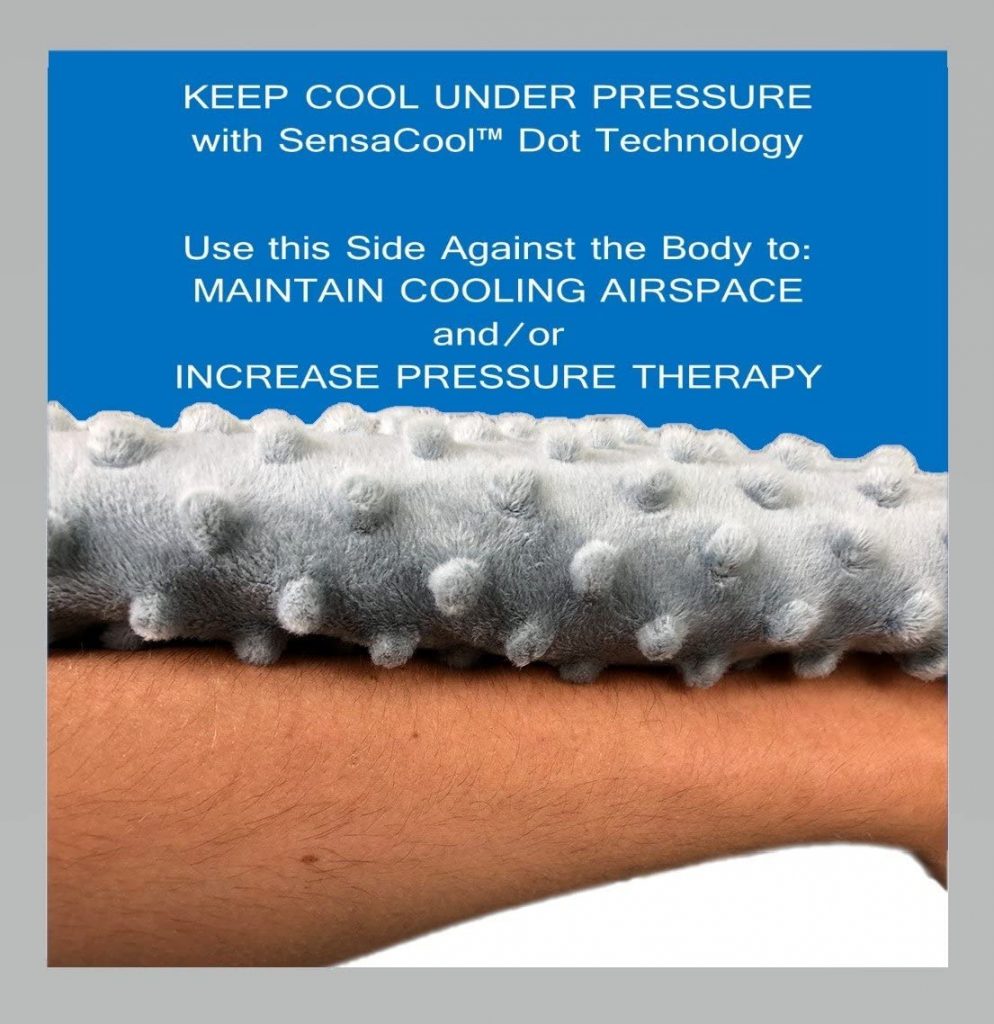 The guys at Premium Health had a brilliant idea when they came up with this weighted blanket for adults. According to research, the ideal blanket should weigh 12 to 15lbs. If it is less then your goose is cooked because it will not give you enough therapy especially if you are going through an anxiety filled moment in life. If the blanket weighs more than 15lbs, again your goose is roasted because you will feel so hot under it.
So the ideal thing is something in between. And this is how the Calmforter blanket is designed. Within this weight range.
However, after trying it, I can only say that their blanket was good in theory. The practical bit was something else. After using it for one night, I found that the weighted material was shifty and would slide to one end. I unzipped and found that it had these ties that were supposed to hold it together but they were weak and broke off. The Premium Health Company needs to do something about this.
What we liked it

♠Wide range of colors to choose from
♠Warm and soft to use
What I did not like about it
♦It slid away and this needs to be fixed.