About Us
Hello and welcome to Hosiped where we talk everything about taking care of seniors with a smile.
We also review different products such as hospital beds, mattresses for hospital beds as well as hospital beds for home use.
Our Motto
Compassionate caregiving with a smile.
Our Mission
To provide accurate information on the latest trends in palliative and seniors caregiving.
We do this by conducting research, immersing ourself in journals and news websites that talk about palliative and adult care.
Our Vision
To have a world of informed, happy and zealous caregivers who give their all when it comes to this noble duty of caregiving.
Our Core Values
We are guided by the key tenets of Honesty, Hardwork, Compassion and Excellence
Honesty
We will weed the chaff from the wheat telling you of what works and what will flop in our caregiving product reviews.
Hard work
We toil and moil to provide you with the best experience that you could ever dream of.
Excellence
We strive to be the best caregiving resource in the entire blogosphere. We do this by having our team of researchers out there interacting with latest caregiving gadgets so that we can always keep you informed.
Compassion
We believe that caregiving is more than a job. It is a calling. We therefore instill compassion in all our undertakings.
Meet our Team
Trizah Wanja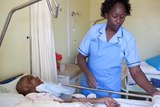 Hello, and welcome to our blog.
I am Trizah Wanja and have been in the caregiving niche for over 9 years.
I work at a hospice where I take care of palliative patients as well as elderly people.
I give hope to patients as well as their relatives since in palliative care, you never know when you are going to lose your patient.
Other than caregiving, I also blog on the same topic and you will find most of the content in this blog has been written by me.
I hold a Masters Degree in Neuroscience from the University of Nairobi. You can find my research works on Parkinsons disease here.
Kelvin Samson James

My name is Samson and I am a practicing physiotherapist who has worked with the elderly, invalids, given palliative care to patients in a hospice, muscular dystrophy children as well as injured people.
In my line of work, I have been asked severally to recommend the best hospital beds, mattresses, pillows for patients in need so that they can be comfortable both in the hospital as well as at home.
I have found out that people are clueless over the type of hospital beds that their sickly patients need. A good comfortable hospital bed is essential for the patient's ergonomics as well as safety and the feel that they are still cared for. In my line of work, I have found out that patients actually deteriorate if not given the right bed. They also feel uncared for and as though they are a burden to you. This is not what you want them to feel, do you?
I believe that you want to show them that they are cared for and loved. You want them to sleep soundly and not wake up complaining that their backs are aching since this could make them stay for longer in the hospital.
In writing this review website, I am targeting you who is in the following groups
1.Are a medical practitioner or administrator working in a hospital and you feel clueless on choosing the best beds for your patients. Are a palliative care giver tending over patients/invalids at home or in the hospital
2.Are a patient yourself and need to know the best bed for you.
3.Parents who have muscular dystrophy kids and need the best beds for their comfort as well as for you not to be perturbed waking after every one hour in the wee hours of the night to turn them on their bed since they cannot.
4.Are taking care of the elderly or someone injured at home.
5.Are generally interested in finding about this important topic and want to pass word around about the existence of such an informative website