I have said countless number of times on this blog and even on other forums where I have been invited to talk about toilet hygiene that using the toilet paper is not the cleanest way that you are using to wipe your bum.
Toilet paper never does the wiping job well. You are better off trying a bum washing toilet seat.

Hosiped
For one, we have already proved that it does not really do an awesome job—you will smelling of poop and probably getting skid marks even after using it.
Two, you are highly likely to cause anal fissures, bruises and even UTI when you use them—low quality toilet paper has been found to be a major cause of urinary tract infections especially in women.
As alternatives to the dry ineffective toilet paper, we have looked at flushable wipes, wet washcloths, toilet paper sprays as well as travel bidets. Today we continue in that topic as I review some of the bidet toilet seats that disabled people can use.
But why use a bidet toilet seat?
Well, it could be that you are an elderly and are having a hard time reaching your bum and therefore feel that it would be okay to have a stream of water washing down your bum.
Bidet seats have also been designed to be very comfortable, homely and really cool for all to use. Obese people we have pointed out would be having trouble reaching their bums since their arms just happen to be too short to get to the perianal area.
Other classes of people who might find the bidet seats invaluable include people who have had a hip replacement surgery and so getting along with their toilet hygiene is just too tough on them.
Different from a handheld or travel bidet, the bidet toilet seat is a new technology where you are able to clean your bottom while still seated on the toilet seat after a bowel emptying.
In short a bidet toilet seat is literally a toilet that cleans your bottom with water. Strange? Well, ask the Asians and Europeans

Hosiped
It is so cool that some of the bidet toilet seats for disabled that we look into in this article actually detect when you are done emptying your bowel that they clean you without pressing on anything.
Others are uniquely designed that they will clean you with warm water just in case it is winter and you would really get chilled by cold water cleaning up your perineum.
What To Look Out For When Buying Your Best Bidet Toilet Seat for Disabled
While it is a nobrainer for me when choosing the best toilet seat bidet, it might prove hard for noobie caregivers who have disabled people who might want to use it. So, what do I look for:
Design vs Functionality
While you are looking for something that looks hip and cool, you also need to be looking for a bidet seat that is strong and will not break under heavy weight. It also needs to be durable. The washes should come out automatically when you press on the buttons so that you do not stay in the toilet for long waiting for the bidet to clean you.
Front and Back Washes
Women mostly will be looking for a bidet system that will not only clean their back but also their front nether regions. So you need to get one that can be adjusted to clean normally, that is the back and also to clean your front area in case it is going to be used by women.
Warm Clean
You want a bidet that is going to give you a warm wash, right? No one wants a bidet that is going to do a cold chilly wash especially during winter. So check out for one that can do warm washes with adjustable temperature.
Warm Air drying
Other than cleaning your bum with warm water, the bidet should also dry you with warm air. So that you will leave the toilet clean and dry with no moisture clinging on you, right? So check out whether the bidet in question has the option to warm the air before it hits your perineum.
Strong for Obese people
The bidet seat should be designed such that it can be used by slim and obese people alike without any breakages.
Night Use
You want a bidet that you can use whether in the dark or in the light. I therefore advise newbies to look out for LED nightlight feature on the bidet toilet seats that they are about to buy.
Adjustable stream to clean you up
While obese people might be looking for a bidet with a powerful stream, old people and children would be looking for a soft spray to hit their rectums. To balance the two, you need to go for a bidet system that is adjustable.
Alpha Jx Bidet Toilet Seat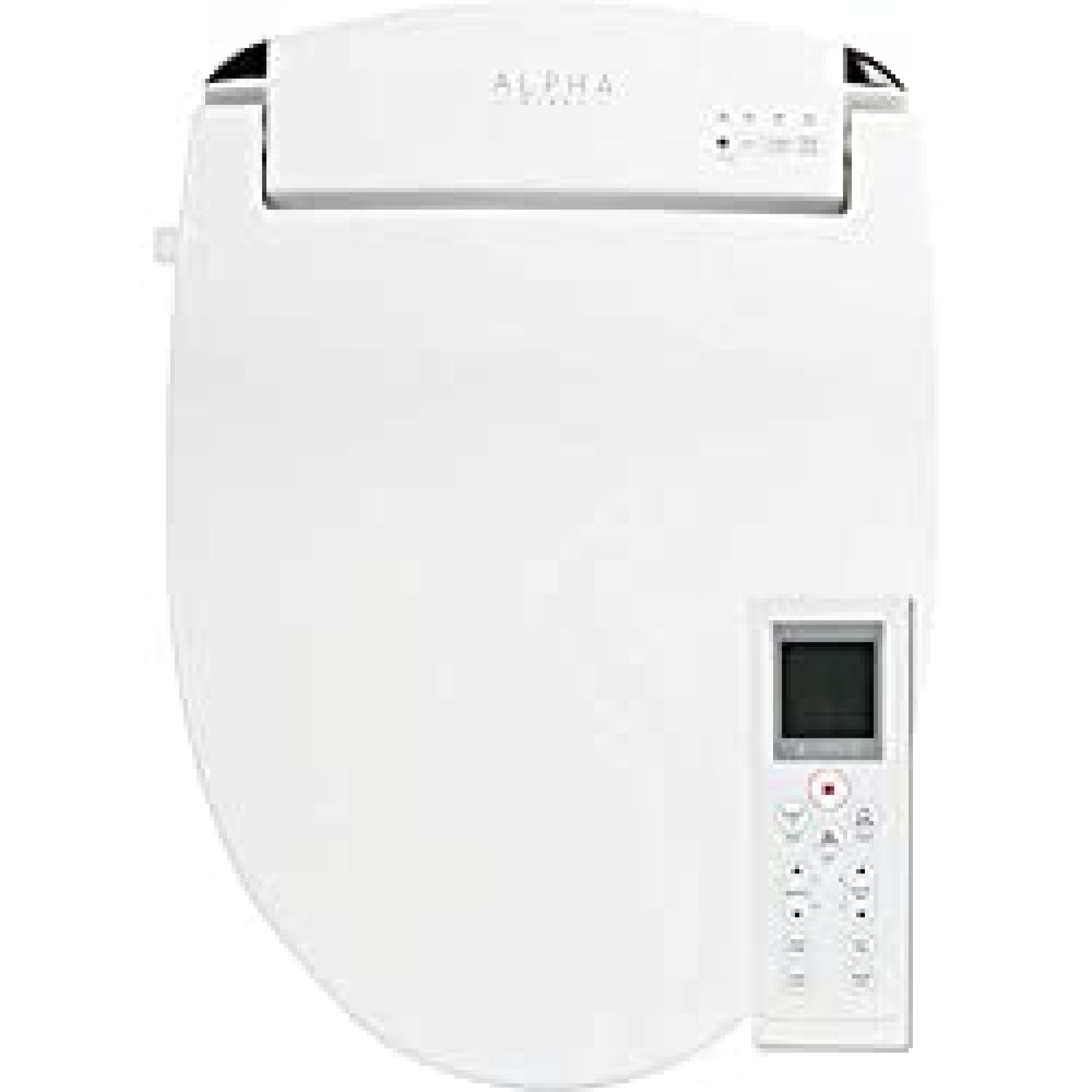 Alpha JX bidet toilet seat
LED nightlight
Adjustable water temperature
Warm air dryer
Front feminine wash
Sturdy and supports a weight of upto 300lbs
Top of all the other bidet seats have to be the Alpha JX which is uniquely designed with nightlight so that you can use it in the dark, a silent operation where no one has to know that you are getting your bum cleaned and warm water so that you can use it even in the chilliest of weathers.
Listed among the hot 50 products in the 2017's green builder editorial report, the Alpha JX is indeed a product that every disabled person will love. The warm air dryer ensures that you do not have to touch any toilet paper or paper towels to clean out the moisture after a quick, thorough wash on your nether regions. The seat is so sturdy that it can support a weight capacity of upto 300lbs and therefore you do not have to worry using it even if you are obese.
What we loved about the Alpha JX bidet toilet seat for elderly
The toilet seat is sturdy but at the same stylish. You therefore need not worry that you might end up breaking it because you are too heavy
The LED nightlight design was a huge plus. Who does not want a bidet seat that detects when it is dark and therefore provides some lighting?
It has warm water and therefore no one needs to worry that the winter cold combined with cold water will chill them.
Has a front wash which is a great thing for women who want to wash off their nether region.
The warm air dryer with adjustable temperature ensures that you come out of the toilet dry without having to use any toilet paper or towel
What we did not like about the Alpha JX bidet seat
The instructions were not that straightforward. Either I am not a good follower of written text or that they seemed a little bit abstract. Anyway, I had it installed by a visiting brother who surprisingly did not have a hard time getting it to work.
It was rather expensive now that I was used to the cheap travel bidet
Electronic SmartBidet 2000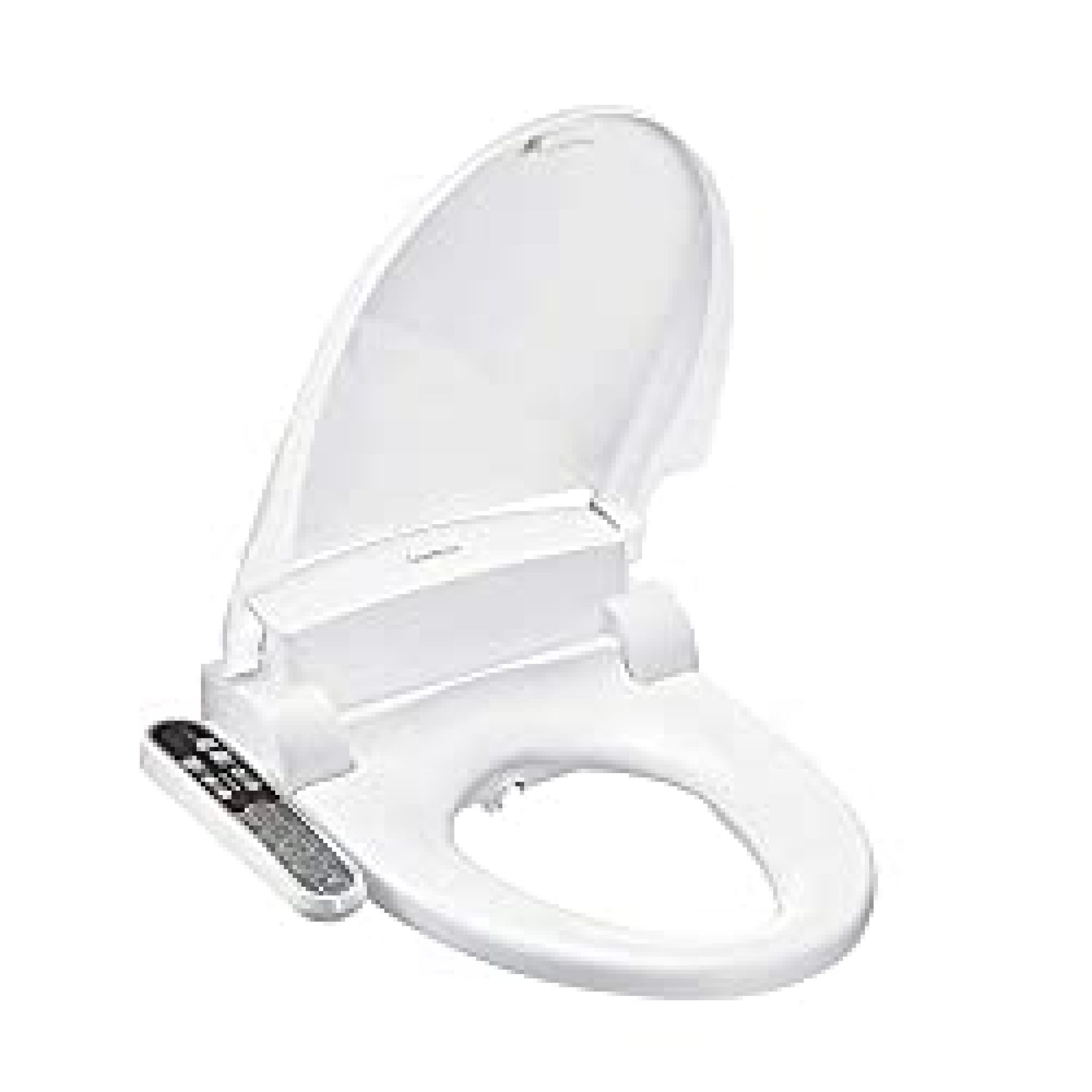 Blue LED nightlight
Warm wash
Warm air dryer
Second in my rank of the best bidets for elderly people has to be the Smartbidet which also comes with warm washes, a warm air dryer and is also sturdy in design. This makes it a good product to have at home so that you are assured of a clean, hygienic wash so that you can go around smelling clean and feeling it.
What We Loved About the SmartBidet
Uniquely design with both a mix of style and being sturdy
Warm wash so that you do not have to feel chilly while washing with cold water
Warm air dryer so that you can leave the toilet dry and clean
Brondell Swash SE600 Bidet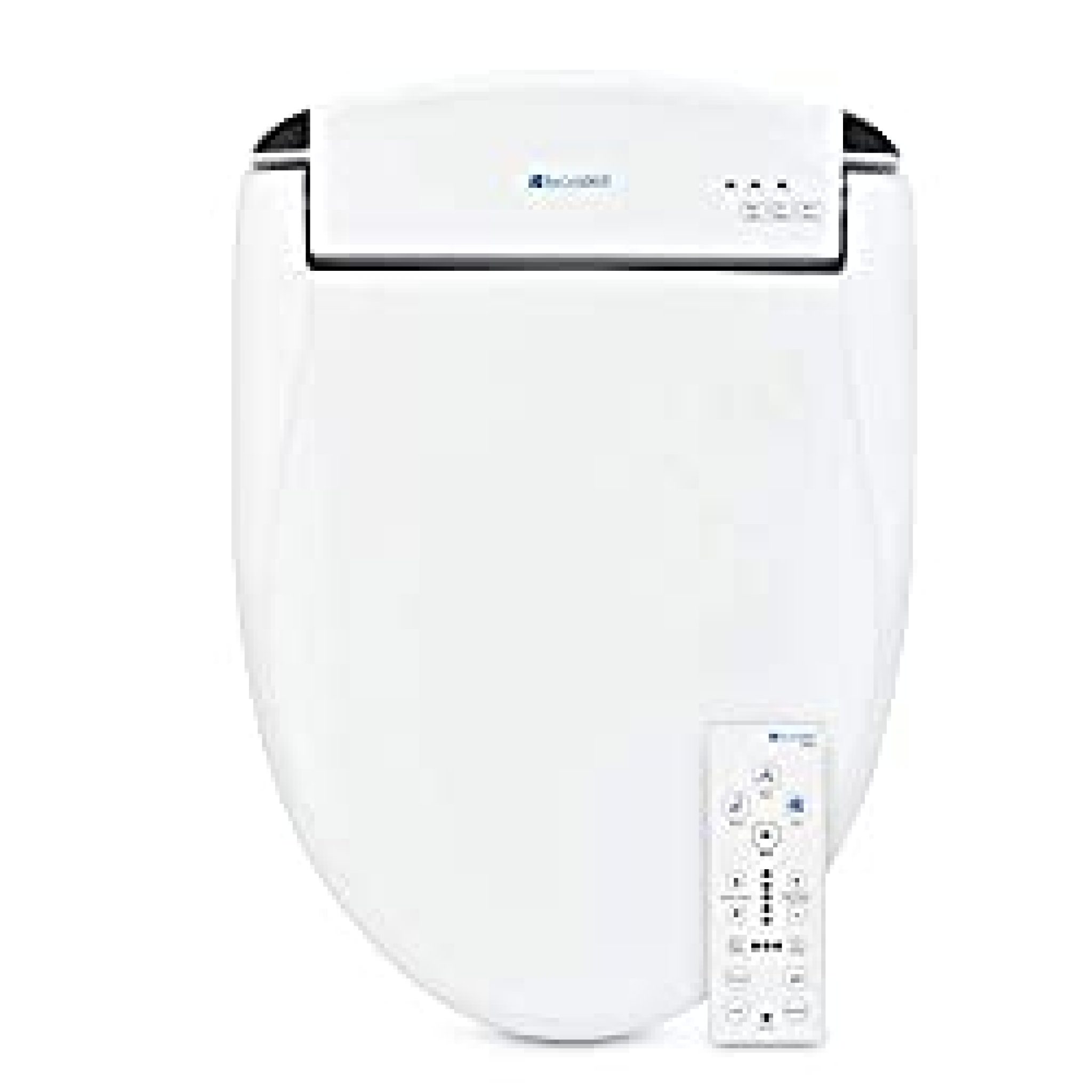 Measures 20.7" x 14.9" x 6.1"
Adjustable water temperature
Designed for the North American toilet
The marketing guys at Brondell have a suave that is entrenched in their tagline that goes something like, "We are Brondell; Join the wash don't wipe revolution". And a great revolution they have started that stemmed in 2003 and is still going strong. And well, their bidet toilet seat is something to look out for. What with the finesse of how it is styled, the LED glow light when you are using it in the dark, the warm temperature of the water hitting your perineum, the warm air that sprays your moist butt drying it clean not to mention the deodorizer that leaves you smelling fresh and clean.
Interestingly the Brondell bidet works noiselessly and so you need not get worried that someone in the next room is encroaching your privacy. The only thing that makes some low noise is the warm air dryer as it hums. But its sound is not more than that of a hair dryer at work. You can control the streams of water getting onto your nether region through the wireless remote which can also be used to either activate heated water or even the position that the water hits your perineum. This makes it an ideal for women who want to wash both their back as well as their front.
What we loved about the Brondell bidet toilet seat
Large enough so that you can seat comfortably and do your business. It measures 7" x 14.9" x 6.1"
Easy installation guide that you will follow with so much ease
LED Nightlight feature just in case you are using it in the dark and the bulb in your bathroom blew up
Warm air dryer and hot water to wash your butt
What we did not like about the Brondell Bidet
Most of the customers online complained that their units had a faulty GFCI that would trip so often making the whole bidet thing ineffective.
Coway BidetMega 200E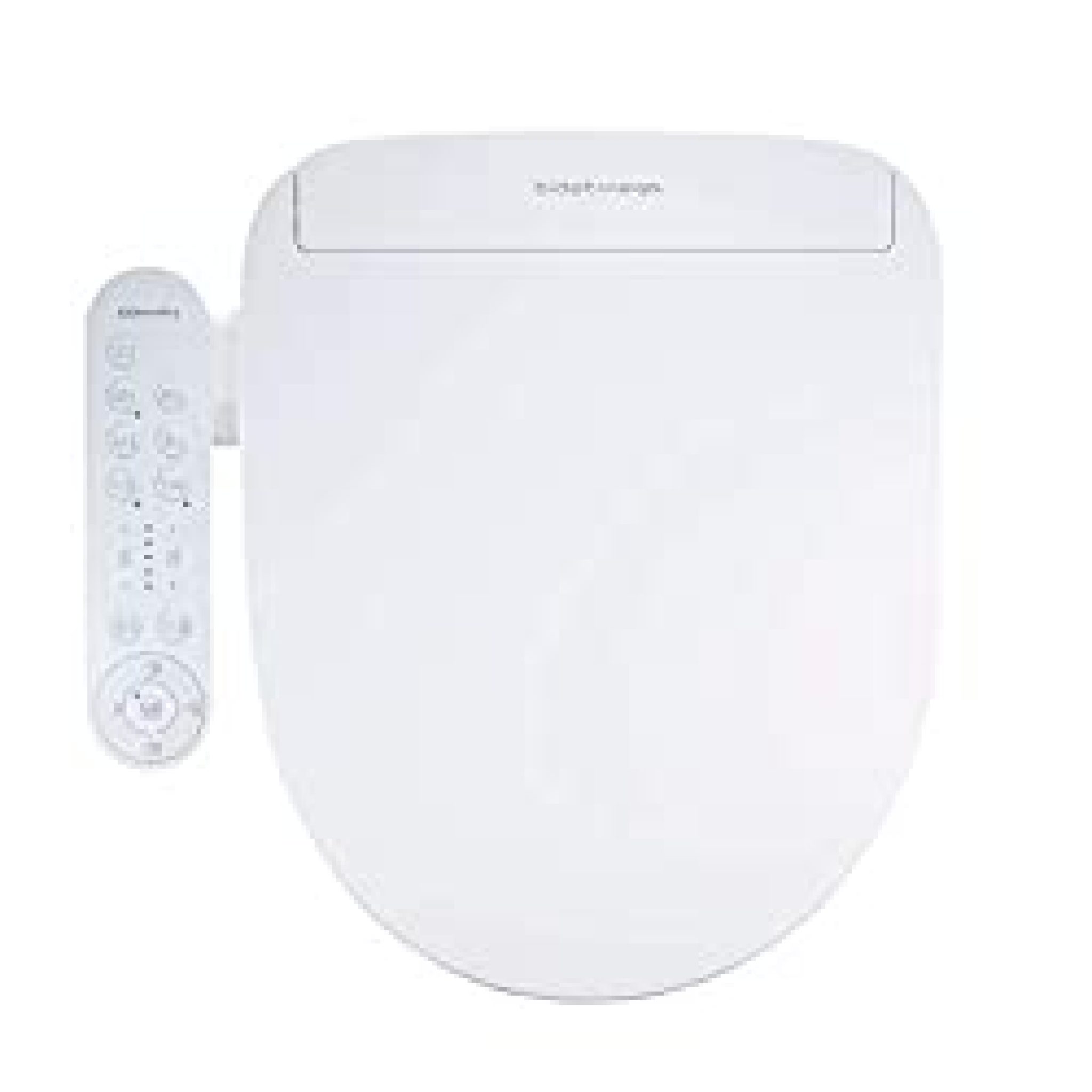 Braille User controls for blind people
Support weight of upto 330lbs
Warm wash plus warm air drying
When you are having a blind person in the house and want them to feel fresh even after emptying their bowels, you want a bidet that is uniquely designed so as to accommodate them. And here comes the Coway Bidetmega that has braille user controls so that even a blind person will use it to spray onto their backs and front with ease.
Other than that special feature, it comes with temperature controlled water for butt cleaning, warm air for drying plus a heated toilet seat.
What we loved about the Coway BidetMega
The braille user controls are a plus for blind or visually impaired people
Warm clean plus warm air for drying.
Can support a weight capacity of 330lbs and therefore ideal even for the extra heavy people