Family Cloths for Poop: Wiping Your Butt with Reusable, Inexpensive, Eco Friendly Cloth Wipes
If you are looking for a frugal yet effective way to tenderly clean your butt or wipe sweat off your brow after a gym session then the Living fashions washcloths should be the one thing that you should buy. The pack of 12 cottony soft washcloths will surely take care of you and your family. Each of the washcloths measures 13″ by 13″ and therefore is large enough for your use. They are machine washable and dryer safe.

November 29, 2023 10:52 am

Amazon.com
Last update was on: November 29, 2023 10:52 am
What is a family cloth?
A family cloth is a reusable alternative to toilet paper that is made of old tee shirts, towels or dresses. It could also be a bought cloth wipe from amazon. Family cloths are mostly used wet by people who have found out that wiping their butts with dry toilet paper could cause anal fissures and irritations. Users are also trying their hand in frugal living and do not want any more trees cut for the sake of toilet paper production. If anything, we have all tried using cloth wipes when potty training our kids.
Unity Frankford Washcloths
Pack of 24 washcloths
Each measures 12" by 12"
Very strong hemline
Multi-colored
100%Cotton
Living Fashions Family Cloths
Pack of 12 washcloths
Each measures 13" by 13"
Fairly strong hemline
Multi-colored
100% cotton
AmazonBasics Family Washcloths
Pack of 60 washcloths
Each measures 12" by 12"
Weak hemline
One color
100% cotton
Why would anyone use family cloths for poop instead of Toilet paper?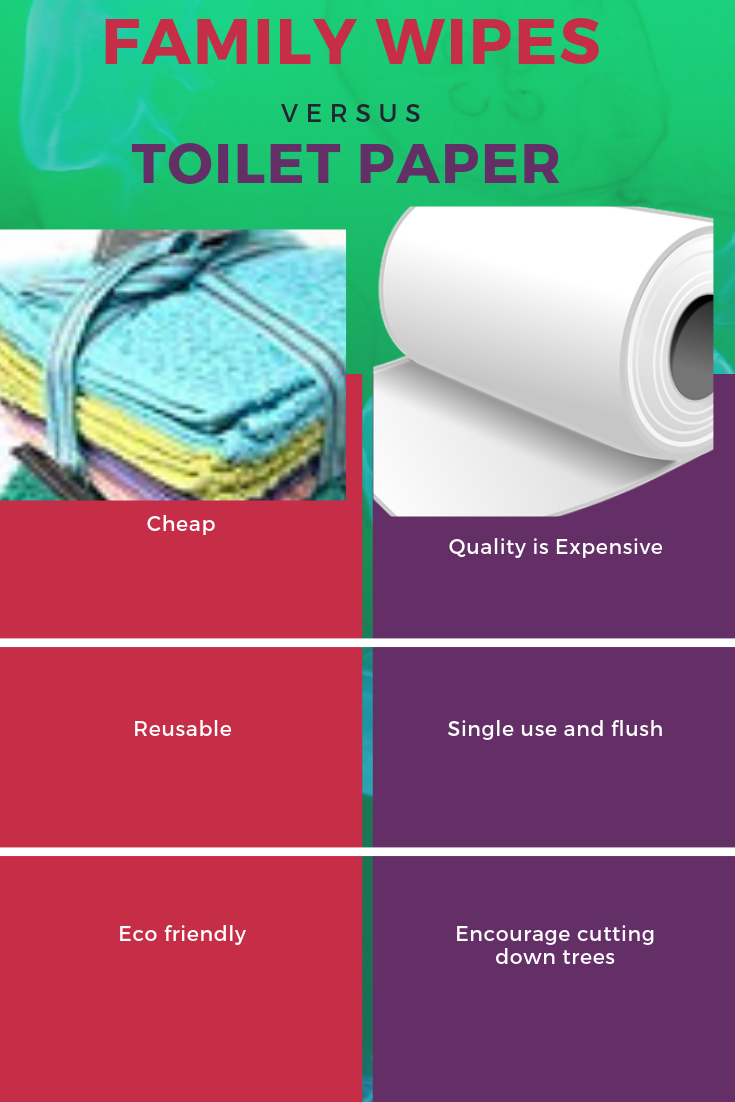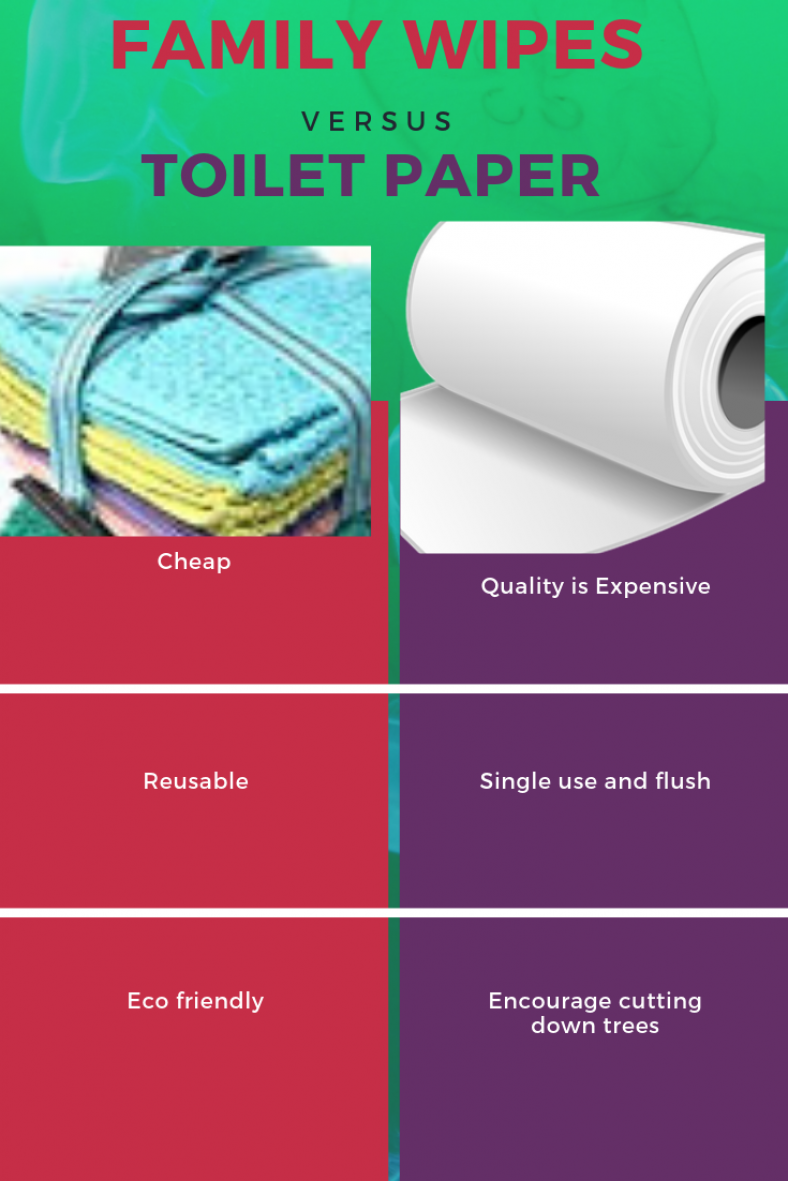 Let us agree on one thing, wiping your butt with toilet paper is not the best or hygienic thing that you should be doing. In fact, those who have been adamant on using toilet paper and never anything else have found out that they wipe their bums but are never clean.You should think of other alternatives say use flushable adult wipes or family cloths. In today's post, we look at the advantages of using family cloths for poop.
Never use toilet paper unless it has been moistened with some good, skin hypoallergenic sprays.
Family cloths are cheap
For one using family cloths is inexpensive. In fact the proponents of frugal living use them because they argue that using toilet paper to wipe is like flushing money down the septic system. And I believe that is true. Toilet paper is expensive and you will have to continually replenish them every time you run out of them.
Reusable
After using family cloth for poop, you only need to wash it with detergents and disinfectants, dry it in the sun and re-use it the next time you want to go for a number two in the washroom.
Family cloths are eco-friendly
Two, the use of toilet paper is not environmentally conscious. Come on, we are soon going to run out of trees if we continue using toilet paper as we are doing right now.
They do not clog your toilet
Since you will not be flushing the family cloths, you do not run the risk of blocking your sewerage system and getting in the wrong books of your municipal government. Low quality toilet paper or influshable wet wipes will however cause this.
Clean wipe
Use of family cloths guarantee you of a clean and flesh wipe. People who use family cloths first wash themselves with water from a bidet or the shower before they dub themselves dry. There are also those who use moisten the cloth before they go ahead to wipe their butts.
Natural, no chemicals
Some toilet paper have been found to contain BPA and BPS chemicals which could lead to all forms of complications. With family cloth for poop though, you need not worry of that since they are just pieces of cloth.
Hygienic
Most females will attest to the fact that using these family cloths as their pee cloths after urinating helps prevent against urinary tract infections. Low quality tissue paper though could see you getting infected time and time again.
Softer than toilet paper
Family cloths are definitely better on your butt because they are softer than your normal toilet paper. When using them, you are not likely to get anal fissures or irritations as you are likely to get with cheap, hard toilet paper.
Why not use family cloths: The disadvantages
Despite the merits of family cloths that we have listed above, there are also factors that make people look down upon them:
 You will not give your guests the same family cloth that you use. You have to give them tissue paper since this is what they are used for.
Lots of water will be used since you need to wash your butt every time before going ahead to dry with a family cloth.
Ugly sights will be there in your bathroom when you have a dozen of unwashed family cloths.
How to make reusable family cloths
Other than buying family cloths from Amazon or other stores, you can also make your reusable family cloths for poop. In this segment, we will look at how to do it. All that you will need is time, knowledge on how to use a sewing machine, a pair of scissors as well as soft, old clothes that you no longer wear that can be converted into your cloth wipes.
Here is how to do it:
Cut out the soft old clothes into neat squares. You might need to use a ruler to measure out the squares before you cut them
Sew the edges of the cut out clothes so that they do not tear out easily.
Fold nicely and there you have it; your diy reusable family cloths.
How much family cloths do you need to keep you going
Everyone should have at least 5 clean family cloths so that when they are using two per day, three are clean and when they wash them by the end of the day, they still have 3 remaining to be used the next day. Nobody should use another person's family cloth to wipe since this might lead to urinary tract infections as well as other health complications.
Best family cloths for poop on Amazon
Most people who have made the decision to do a 360 degrees turn in their lives want to know where they can get natural family cloths. Well, amazon has these multi-colored, soft family cloths for poop that you can sample from. Here they are:
Unity-Frankford Washcloths
Check Lowest Price on Amazon
The first thing that you will fall in love with in the Unity-Frankford washcloths is the way the manufacturer packs them as they deliver to you. Well-thought-out, fancy and meticulous. The pack of 24 washcloths is made of a myriad of 12 colors that will soothe you. The ultra soft material will endear itself to you since it is gentle on your bum. The hemming on the edges is strong enough and so you do not have to worry that they will start shredding away.
PROS:
Creative design and packaging of these reusable toilet paper will make you fall in love with it at first sight
Strong hemming
Wide range of colors
Ultra soft and therefore gentle on your perineum
Living Fashions Washcloths
Check Lowest Price on Amazon
Sold at packs of 12, the Living fashions family cloth wipes are ultra soft, 100% cotton and measures 13 by 13 inches which is the largest I have seen in a family cloth. They are the second best washcloths that money can ever buy with their high absorbency rate, easy to clean features as well as their wide range of colors. Since the pack only contains 12 pieces, I would advise you to buy at least three packs or be ready to wash the dirty ones every day.
PROS:
Large sized eco friendly toilet paper alternative.
100% cotton and ultra soft on your bum
High absorbency rate
Easy to clean
Wide range of colors to choose from
CONS:
The pack only has 12 units so you might have to buy 2 or more sets so that you have enough to run for a few days before wash and dry
AmazonBasics Cotton Washcloths
Check Lowest Price on Amazon
This pack of 60 from Amazon is the best budget set of family cloth wipes that your bum could ever wish for. Coming in a wide range of colors, you can choose the hue that you want. The material is 100% cotton and therefore ultra-soft and gentle on your butt. The reusable family cloths are machine washable. Each cloth measures 12 x 12 inches which is large enough to cover up your butt or even face incase you want to use them for wiping your face.
They have a looped terry design which ensures maximum moisture retention and so you do not have to worry after using these wipes. I would recommend that you first moisten them before wiping your butt. You can either do it with warm or cold water depending on what you want.
PROS:
Sold in different colors and so you can choose the hue that please you most
Best budget reusable toilet paper
CONS:
A little bit less in size compared to Living Fashions washcloths
Pacific Linens Washcloths
Check Lowest Price on Amazon
We also tried using the Pacific Linen washcloths and though they are a little bit cheaper, they are not as good quality. For one, the hemming on the edges is not that strong and after a second wash, we found lint coming out of the washcloths and the hemming would easily shred away. They also come in just one color; white which would surely be so hard to clean after using them in the washroom. I would advise you to only use this for gym purposes or wiping sweat from your face.
Just like the AmazonBasics wipes, the pacific linens also come in a pack of 60 with each measuring 12 x 12 inches. With such a large  number of  family washcloths, you are assured of sufficient cloths to keep you going for at least 2 weeks. You should however make a habit of washing them as oftenly as possible since you do not want dozens of family cloths with poop inside your washroom bucket, do you?
PROS:
Pack has 60 units which will see you through a long time before wash and dry
CONS:
Lint coming away and hemming not that strong
Come only in white color which is difficult to keep tidy