The Best Toilet Seat Riser with arms for the Elderly
If you are looking for the best toilet seat riser with arms for someone who has knee, hip or back complications without buying a tall toilet for disabled, then the PCP toilet seat riser should be your thing. With sturdy arms for the patient to hold onto, the seat can adjust to a height between 18″ to 23″ above ground so that your patient will not strain that much. Made of high quality medical grade material, the seat will last for long. It can also act as a commode safety frame.

September 30, 2023 9:51 pm

Amazon.com
Last update was on: September 30, 2023 9:51 pm
Toilet Seat Risers for Elderly and Handicapped People
After a back surgery or hip replacement, it gets increasingly hard for tone to sit on your normal toilet seat. You need a few extra inches so that you can sit comfortably without seething pain running through your bodies. We look at some of the best toilet seats risers for elderly and handicapped people.
Toilet Seat Riser
Image
Features
Purchase Action
PCP Toilet Seat
--Able to raise to 23" above the ground
--Comes with arms
--Easily portable and can squeeze through in thin places
Check Price on Amazon
Drive Medical Seat Riser
--Adds 5" to your toilet
--Has sturdy removable arms to hold onto
--Fits snugly on your toilet bowl
--
Check Price on Amazon
Essential Medical Toilet Seat
--Gives you an extra 3.5" to toilet height
--Made from hardened plastic

Check Price on Amazon
Vive Toilet Seat
--Very portable since it is lightweight
--Adds 5" to your toilet height
--Ergonomic removable arms
Check Price on Amazon
If there is one thing that the elderly have a problem with, it is going to the toilet. It presents them will all kinds of oddities. For one, they  might not be able to take the long walk to the toilet, might be unable to get themselves on the low toilet seats leave alone lowering their clothes so as to relieve themselves and then there are those who might be unable to wipe themselves after the act. Sitting on toilet seats also causes joint pains especially for those who have been bedridden because of injuries. Worse still is those who have had hip replacement or back surgery since squatting very low makes excruciating pain run through their bodies.
Despite all these, the elderly want to be seen as independent and do not welcome the idea of you their caregiver trailing them wherever they go to the toilet because they want their privacy. We therefore need to look for alternatives that will help them maintain their privacy while at the same time making going to the toilet a simple task devoid of falls and pain. In this article, I will be looking at the use of toilet seat risers with arms that offer the elderly comfort when they are relieving themselves.
What to look for when buying a toilet riser for elderly
Stability
You do not want the toilet riser to wobble when the elderly patient is sitting on it, do you? No, you want something that is solid stable and will hold onto the person without the risk of it letting go and resulting into a fall.
Weight limit
Most raised toilets are accomodative and will take a weight of upto 300lbs. However others are not able to support this and therefore when you have a heavy adult, they might not be the best pick.
Round or elongated toilet
While buying the riser, you need to consider your toilet dimensions as well as its shape whether it is round or elongated. If round, go for a round riser and viceversa.
Increased height
What height does the toilet riser add to your toilet. In most cases, you want it to have the highest height possible so that the elderly does not have to bend so low due to injuries or body pains. At the same time, you have to consider the bowel emptying ergonomics. Scientists say that the best angle for emptying your bowel is 45 degrees. More is not very good.
Durability
The toilet seat riser needs to be durable so that it can give you value for your money. You do not want that will stay for a bit and then crumble after investing so much in buying it, do you?
Cleanability
The seat has to be easily cleanable. It should be one that you just need to wipe and do not have to uninstall the entire toilet to clean away particles hidden in between that might have accumulated.
#1.PCP raised toilet with safety frame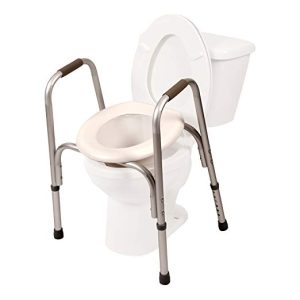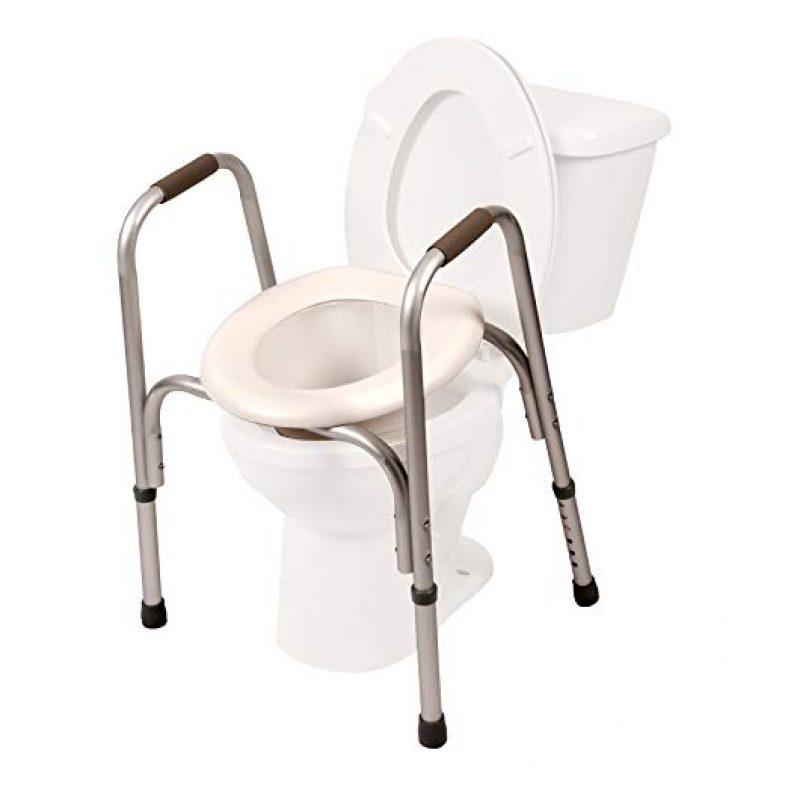 Check Lowest Price on Amazon
When you want to raise your toilet to the highest height for the elderly, then the PCP raised toilet seat with safety frame has got your back. Able to adjust to a height of between 18 to 23″, the PCP toilet riser offers you comfort while at the same time guaranteeing of your safety with the safety frame that you hold onto as you relieve yourself. It can support a weight of upto 300lbs. With such features, I clown it as the best toilet seat riser with arms.
What I loved about it
Adjusts to a good height of upto 23″ allowing comfort and alleviating patient suffering since they do not have to bend so low
Offers safety with the frame where the elderly holds onto as they relieve themselves
Able to fit in narrow bathrooms since it is quite compact.
What we did not like about it
It was premiumly priced and some people might not be able to buy it.
Related: Best Toilets for Disabled at home
#2.Drive Medical Seat Riser with Removable Arms
The Drive medical seat riser is one of the best raised toilet seats for elderly. Measuring at a height of 5″, it is able to help you seat comfortably on the toilet and relieve yourself without having to bend so low. While you do your number one or two, you can hold onto the removable arms on the side allowing you to be more comfortable and stable. The distance between the two arms is 18″ and is therefore wide enough even for extra big people.
This seat riser can support a weight capacity of upto 300lbs.
What I loved about it
The arms make getting on and off the toilet seat easy
Adds an extra 5″ to your toilet which is great for those having trouble bending due to joint pain
Highly durable and will give you value for the money
Stable on the toilet since it holds snugly on most toilets and therefore you are not likely to fall off.
What we did not like about it
#3.Essential Medical Supply Raised Toilet Seat lift for Elderly

The essential Medical Supply which is made of hardened plastic installs under your toilet seat and comes with removable arms so that you can get on and off the toilet with ease. It gives you a 3.5″ increase in the toilet height.
What I loved about it
Though it is made of plastic, it does not squish easily since this is hardened plastic
It is easy to install and come with bolts for fastening it
The top part wipes easily.
What we did not like about it
It is not easy to clean it thoroughly since it is under the toilet seat so you periodically have to remove everything and get to clean out any dirt that might have accumulated between it and the toilet seats.
#4.Raised Toilet Seat by Vive
Measuring approximately 7lbs, the raised toilet seat has to be the most portable toilet riser that you can ever get. It increases your toilet height by an extra 5″ making it comfortable and easy to use. The arms making it ergonomic to use without you having to  strain so much.
The Vive toilet riser is made from hardened plastic that is highly durable so that you will get value for your money. It can support a weight limit of upto 250lbs and therefore would not be ideal for very big people.
What I loved about it
Lightweight and therefore very portable
Easy to clean
Easy to install
What we did not like about it
It only has a weight limit of upto 250lbs and therefore not ideal for big heavy people.
#5.Vaunn Medical Toilet and Commode Riser
The anti-slip and lockable feature of the Vaunn medical toilet riser with arms makes it hold securely on the toilet seat so that you do not have to fear of falling off or having a seat that easily wobbles when you are doing your business. It is also lightweight and therefore very portable weighing a mere 5lbs. It adds an extra 5″ to your toilet height so that you can reach it with ease and not having to bend so low causing back pains.
What I loved about it
Lightweight and portable
Easy to install
Anti-slip and secure on your toilet
Highly durable.
What we did not like about it
Only for round toilet designs. Will not work for those people with the elongated designs.
#6.OasisSpace Raised Toilet
The OasisSpace raised toilet seat lift for elderly is another of those great toilet seat risers for heavy people because it can support a weight limit of upto 300lbs. We bought it after one of our patients got a knee injury when they were getting out of their hospital bed. The space between the padded armrests measures 18″ which is wide enough even for big people. It has a unique ergonomic design and holds firmly on the toilet seat without wobbling.
What I loved about it
Stable and holds securely on the seat
Good for big people
Great for people with knee injury and do not want to bend so low. It adds 5″ to your toilet height
What we did not like about it
Related: Best Toilets for Disabled at home