List of Toilet extension Tools for disabled
When you are disabled say for example that you have short arms, have just had an accident or back surgery, going to the toilet might prove hard. You will find that you are also having a problem wiping your bum after emptying your bowels. This means that you will either be going about stinking so bad because of the uncleaned bum or you will have to call someone, say a relative, to help wipe your bum. This causes a lot of discomfort on both sides; the caregiver feels bad when they have to wipe your bum while you feel embarrassed having it done for you. These reasons make you go for toilet extension for disabled. Others are confined to a wheelchair and so cannot even think about going to the toilet. In such cases, other than getting them extension tools for toileting, you should as well get them a toilet for wheelchair users.
In this post, we look at the different toilet extension tools that you can use. When looking for these devices, you are looking for something quite lengthy that is going to give you the much needed arm extension so that you can reach your bum easily, are looking for something that has good grip on toilet paper or wipes, and at the same time, you are looking for something ergonomic.
Toilet Extension Aids for Disabled

-Holds Tissue
-Holds Wet Wipes
No Shaver or Length Extender
-No Travel Bag
-Measures 11 inches long
-Below $40
Freedom wand and Bathroom Toilet aid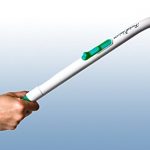 -Holds tissue
-Holds Wet Wipes
-Can be used for washing
-Can be used for ointment application
-Has shaver and length extender
-Measures 21 inches
-Below $60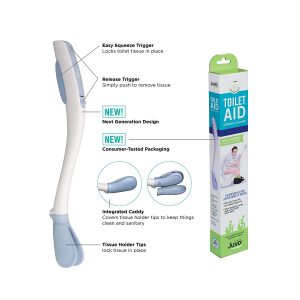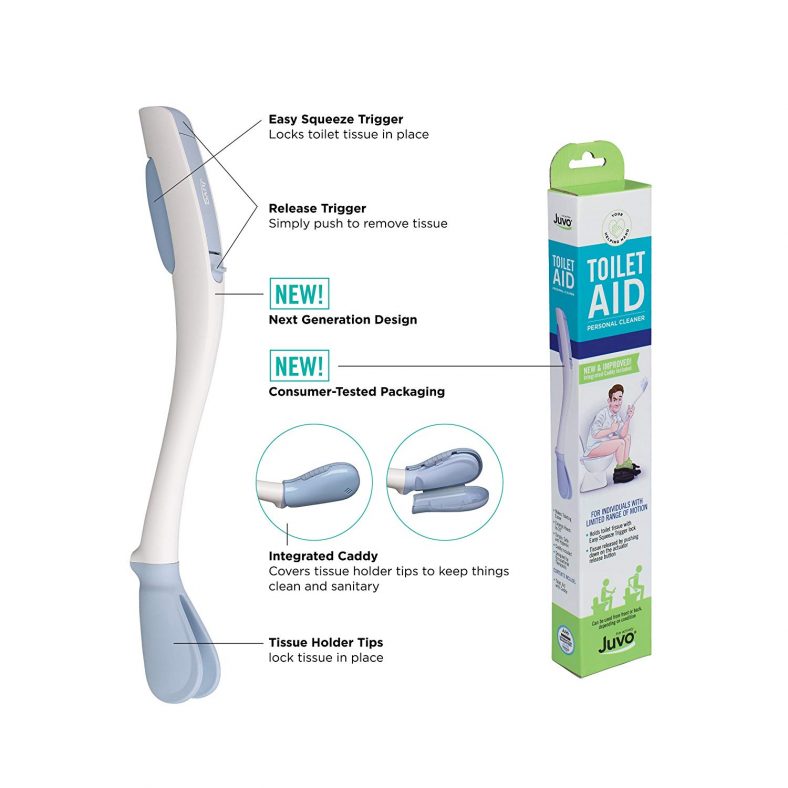 -Holds Tissue
-Holds Wet Wipes
-No shaver or Length Extender
-Measure 20 inches
-Comes with caddy for storage
-Below $30
The freedom wand
A versatile tool that can be used in wiping bum, washing, shaving and applying ointment, the freedom wand has proved to give you what you are looking for; Freedom. It can extend to 21″ which is the longest wiping aid that you can ever wish for. All the other aids come shorter than this at 15″. It is durable and has a good grip on the tissue paper that you are using. You will however need to apply enough pressure so as to be able to wipe your bum nicely. If too much pressure is used, the wand might easily break.
Related: Adaptive Equipment for Toilet Wiping
2. The Bottom Buddy
With patented head design that has finger like projections to hold the tissue paper, the bottom buddy is indeed a buddy to many disabled people offering them what they are craving for; a buddy in the toilet room. Measuring 15 inches, it is way shorter than the freedom wand. However, most people are buying it off Amazon stores due to the durability as well as how friendly it is to use.
3. Juvo Toilet aid with Caddy
The Juvo toilet aid has to be the most budget friendly yet quality toileting aid that you could wish for. It comes with a caddy for storage and measures 15″. It is also durable and easy to use.
You can check other handicap toilet aids here.