I did a post on the importance of bed bumpers especially for adult patients who:
1. Might fall in their sleep.
2.Could get entrapment and get injured or die as they try to dislodge themselves from the entrapment.
I also pointed out that there are some nice bumpers  worth your money that you can buy from amazon. Well, today, I am going to talk about DIY bed bumpers that you can make at home. These DIY bumpers are not only for adult hospital bed but you can make them for your kids cribs and bed.
Importance of diy bed bumpers
Before we move on, I would like to point out that bed bumpers are really important especially for those parents with kids who are transitioning from the crib to their own bed. While you want them to feel independent and not caged in a crib, you should also mind their safety. You do not want them to fall in the night, do you? You also do not want them to get entrapped between the rails and the edge of the mattress, do you?
If you do not have the money to buy those amazon bed bumpers, worry not because you can also create your own bumpers.
These diy bumpers work as effectively as the commercial ones. While they might not last for long due to the material used, they are worth your time especially if you have a small budget.
So here are the steps on making your own diy bed bumper
What you will need
A Roll of Duct Tape
At least four Pool Noodles
A pair of scissors.
Steps in making the diy bumpers from the pool noodles
1.Start by measuring the length of your bed.
2. Use these measurements to cut out the pool noodle lengths
3. For each of the side bumpers, you will need two noodles or more depending on how high the bed rails are.
4. Use the duct tape to hold the length side noodles together.
Steps in Making Bed Width Bumpers
While it would not be necessary to create bed width bumpers for your adults, children might need them since they might hurt themselves on the headboard. For your adult patients, all they need are mattress extenders that prevent entrapment between the edge of the mattress and the headboard.
Measure the width of the bed
Cut out the remaining pool noodles to fit the width of the bed
Hold them together using the duct tape.
Where the length bumpers meet the width bumpers, make a joint using the duct tape.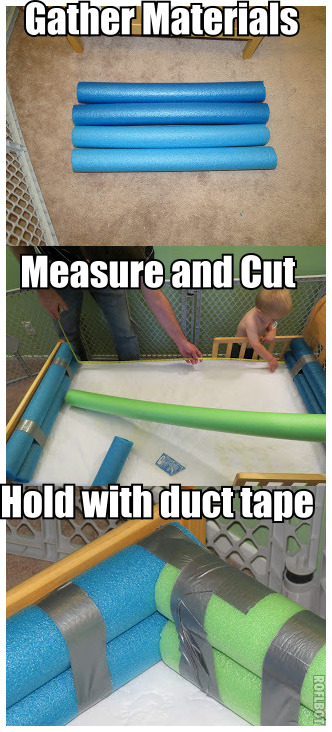 NB: These bumpers should not be used in place for the safety rails. They are not strong enough and though they prevent entrapment or the bed occupant from getting hurt by the rails, they will not prevent your patient or kid from rolling over and falling.