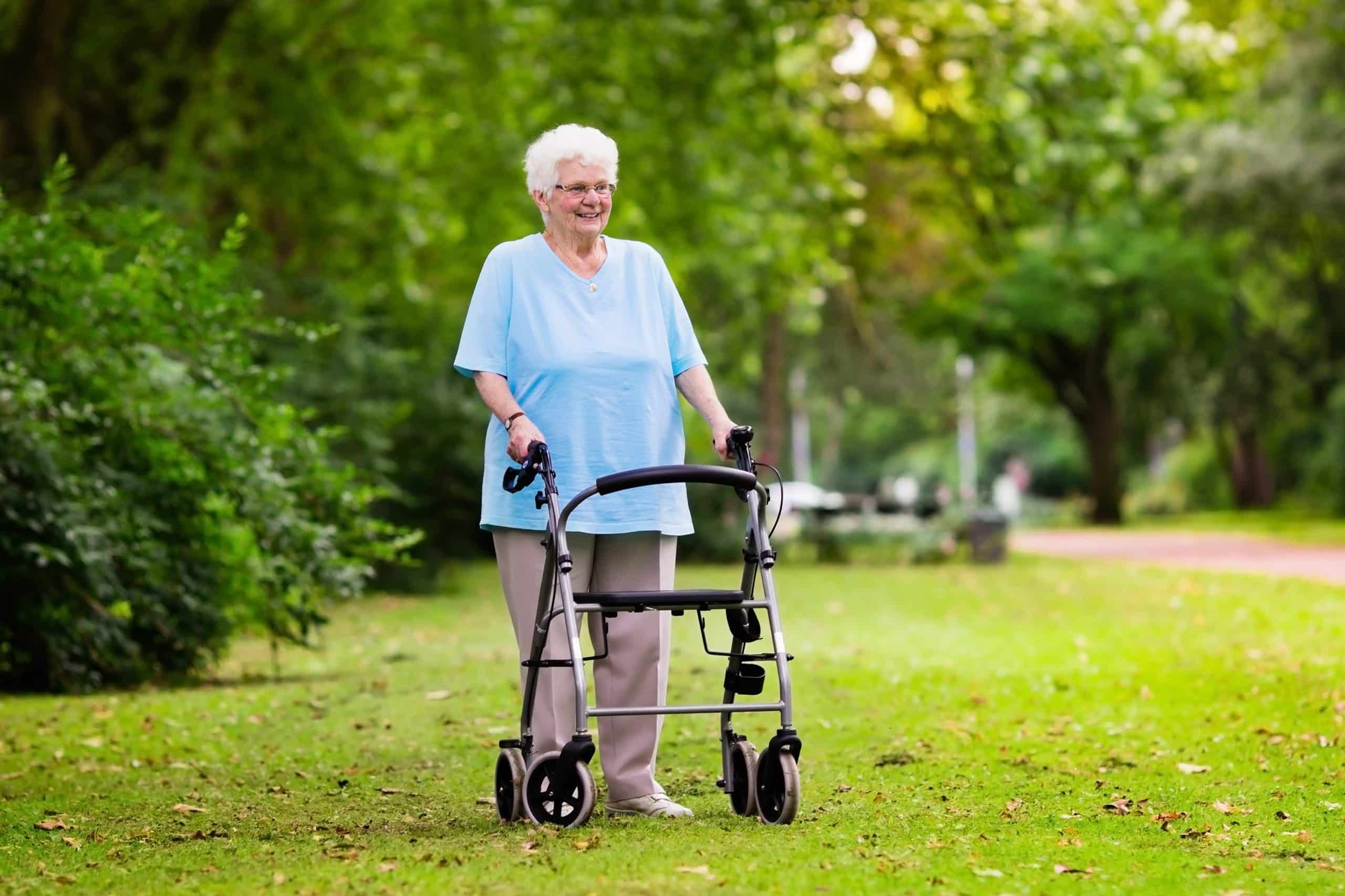 Walking aids are devices made to assist people with walking difficulties to enjoy independence and greater freedom. There are many walking aids for the elderly, but rollators top our list. Because they give you mobility and support for long-distance. Choosing the best rollator walkers for elderly boosts their walking freedom with lesser help.
The second on our list is walking canes, these are useful for people with balancing problems to support body weight, by helping transmit the load from legs to the upper body. Unfortunately, they insert pressure on wrists and hands, unlike rollators.
Thirdly, we have standard walkers, which offer stable mobility. They are available in wheeled and non-wheeled versions, with no seats. However, they are more plain compared to rollators.
We have highlighted factors to consider before buying a rollator and discussed the top 10 rollator walker reviews.
Buying Guide- Best Rollator Walkers for Elderly
Probably you are asking, which is the best rollator? The answer is there is no 'best' rollator. What you should do is choose one that will fit your needs efficiently. To get the best you need to consider the following;
Three Vs Four-wheel
Both three-wheel and four-wheel rollators have their strengths and weaknesses. To start with three-wheeled are narrower and can fit in small spaces, and also they are more portable. Unfortunately, they are less stable and lack seats.
Whereas, although four-wheeled are wider and heavier, they are more stable to accommodate a range of height and weight, and they have a seat.
Wheel Size
Large wheeled rollators allow better maneuverability compared to small wheels. They can be used outdoors and over uneven terrain. While small wheels are good for indoor even ground, and they have a tighter turning radius.
Seats
If you go for a rollator with a seat, make sure it's comfortable. Either padded or sling seats offer comfort, unlike plastic seats that can be painful to sit for a long time though they are easy to clean. In addition, go for the right dimensions for extra comfort.
Adjustable Seat and Handle Heights
Choosing the correct seat and handle height is very important for a rollator, it enhances comfort and easy control. However, it's advisable to buy adjustable ones for flexibility.
Weight
Getting the ideal rollator weight is key, especially if you'll be traveling frequently. It's advisable to get one that is lightweight.
Weight Capacity
It's very important to consider rollator user weight capacity, to accommodate the user safely. Standard rollators can support about 250-350 pounds. If need be go for heavy-duty with 400-500 pounds.
Accessory Dock
You may need to consider other accessories on top of the main factors. Many come with either a storage pouch or basket, although accessories are available for purchase separately.
Foldable or Not
You will most likely want a foldable rollator if you are planning to travel with it. To fit conveniently in vehicles.
Spare Parts Accessibility
Definitely, you want a rollator to serve you as long as you need it. The best way to achieve this is to get one with readily available spare parts. In case of any damage, you will replace the damaged parts only unlike buying the whole rollator.
Top 10 Rollator Walker Reviews
1. Medline Freedom Rollator Walker
If you need the best rollator walker with seat for balance, resting while walking, or recovery, this is the best choice. It will definitely provide you with what you need. To start with, it has an adjustable arm and seat. The seat can be as low as 18" and as high as 23", so either you are tall or short it has your comfortable position.
Also, this Medline rollator weighs just 11lbs, making it easy to walk with, steer, or pick up for storage. You'll also enjoy high-quality, soft seats with backrests for longer use. This is an exceptional feature if you are looking for a rollator to use over a long time.
However, looking for a more portable rollator is also made easier, it folds completely flat, with just a click of a button for easy storage. Again, it has a large storage space under the seat, whether you need to carry medical devices, or you'll be away from home for some time, you have enough storage space.
Additionally, this rollator is best suited for people who cannot lift heavy ones due to surgeries, injury, or muscle weakness. Unless you need a higher-weight capacity rollator, this one is just perfect.
Pros
· Stable design
· Adjustable arm and seat
· Flat fold
· Easy assembly
· Large removable storage
Cons
· Tight for some door entrance
· Low weight capacity
· Smaller wheels
2. RINKMO Rollator Walkers for Seniors- 2in1
RIKMO aims at making the best rolling walkers for elderly, providing better mobility for you or your loved ones. Rollators are made with high-quality aluminum alloy material with seats, parking brakes, and shopping bags.
You can easily convert it to a wheelchair, by flipping the backrest and adjusting the footrests to the front. Also, you'll definitely like the non-slip comfortable handles, adjustable to 6 different heights.
Additionally, going down the slope is made easy by non-slip footrests and double brakes system to protect users from dumping. Stability is also reinforced by the X-shaped sturdy frame for up to 300pounds.
Moreover, this rollator is easily foldable by just pulling the rope on the seat, for easy storage in a room corner or fit in a car trunk. On assembling, it takes only a few minutes, and you are done. Alongside the detachable storage bag, there is an umbrella or walking stick stand.
Finally, the 8-inch wheels provide stability for both indoor and outdoor use.
Pros
· Padded seat and backrest
· Indoor and outdoor use
· Double brakes
· Versatile; wheelchair & walker
· Foldable
· Double storage bag
Cons
· Only adjustable handles
· Wheelchair is not very efficient
3. Hugo ELITE 700-959E
Elite 700-959E rollator gives you the convenience, portability, and mobility you need in a walker. It has a 2-inch thick, adjustable seat height with a backrest for perfect resting and sitting position. In addition, the handles are adjustable for proper posture and ergonomic hand grips for brakes control and comfort.
However, this rollator is designed to support users' weights up to 300lbs. It's the best rollator walker for seniors dealing with severe arthritis, rehabilitating from injuries, or with conditions that compromise their balance. The extra-large wheels enhance stability, security, and extra confidence either indoors or outdoors.
Pros
· Foldable
· Ergonomical
· Double storage
· Require no tools to assemble
· Adjustable seats and handles
Cons
· More involving folding and unfolding
· Relatively low user weight
4. Elenker Upright Rollator Walker
If you are looking for the best rolling walkers for elderly, Elenker walkers are hard to beat. Elenker upright rollator is easy to walk with, fairly light. To start, it's built with sturdy high-quality aluminum, with comfortable user weight up to 300lbs.
On the front side, there is a nylon storage bag, where you can store basic daily necessities. Also, there is a built-in cane/umbrella holder. Unfortunately, the storage bag can only be accessed from the front side, and still, it's not deep enough for shopping or bulky stuff.
Slowly, 8" wheels are becoming the new style for walkers and Elenker, is not left behind. These wheels enhance smooth rolling, balance, and maneuverability across any obstacles. In addition, it has dual adjustable loop brakes, with slow and park functions.
Moreover, this walker has an 18" wide and 10" deep sling chair with a backrest, you can rest wherever you like. unfortunately, the seat might be a bit uncomfortable to sit on and stand. Because, when sited you are in between the two frames of the walker, and still when getting up, there are no sit-to-stand handles.
Pros
· Adjustable downwards or upwards
· Upright walking
· Dual brakes
· 300lbs user weight
· Detachable nylon bag
· Adjustable padded armrest
Cons
· Seat is not very comfortable
· No sit-to-stand handles
5. Medline Heavy Duty Bariatric Rollator
Medline heavy duty is the best rollator walker for rough surfaces and heavy users. It is built with strength in mind supporting up to 500lbs. Moreover, it's not fitted with loads of luxury features, and it's best for short-term recovery use. For long-term use, you just need to add a few accessories to fit your needs.
Firstly, this rollator seat is 22 inches; higher than your standard rollator. People with more weight know how sitting on a low seat can cause knee pain due to the exerted pressure. Also, a comfortable seat accelerates recovery with less pain.
Secondly, the 8-inch wheels are soft and absorb impact helping you to keep balance on rough terrain. You can be anywhere without trouble. In addition, the adjustable handlebar between 31.5 and 37.5 inches makes it ideal for both short and tall users.
Additionally, this rollator folds almost flat making it more portable, this comes in handy for its size. To apply the brakes, you only need little strength to engage them. Moreover, this walker has a zipped spacious under-seat storage bag to hold your belongings while you are out and about.
Pros
· Good for Bariatric patients
· Ideal for heavier users
· Wide, higher seat position
· All-terrain wheels
· Adjustable handlebar
Cons
· Heavier(25pounds)
· Too big for standard door
· May need additional storage
6. Drive Medical Nitro Euro Style Rollator
Drive medical have been making the best rollator walkers for elderly, recently the drive medical nitro euro style has been taking the world by storm. It hosts both functional and reliable features, putting it ahead of the competition.
Drive medical nitro style rollator, looks modern and fresh. It comes with multiple sharp colors as opposed to others that look angler and gangly. Also, there is a special version, in case you are a bit taller.
This rollator is easy to fold, for transport and storage. You only need to pull the embedded handle on the seat and you are done. On top of that, it weighs only 17lbs, making it easy to handle compared to most rollators.
Safety and comfort are assured when using nitro rollator. The four large wheels' grind easily either on sloppy, rough, or bumpy surfaces. Whereas small wheels have a tendency of tripping and getting stuck in corners, this is not the case hence ranked for the best rollator walker with seats.
Additionally, in case you have a tendency of forgetting important things, this rollator open bag will help you to glance at what is in your bag at any given time.
Pros
· High maneuverability
· Amazing design
· Easy collapsing
· Under-seat storage
· Comfortable
Cons
· Low maximum user weight
· Open storage bag
7. Medline Basic Steel Rollator with 8" Wheels
Medline steel rollator with 8inch wheels, is the best rollator for rough surfaces, to give you comfort and some bonuses. To start with, handles are easy to grip, and attached brake handle on each. If you need to stop abruptly, just press the brakes simultaneously with less effort to avoid injuries.
Additionally, the seats and backrest are padded to offer comfort whenever you want to rest. Moreover, the large wheels both at the front and back, increase maneuverability over bumpy terrain and obstacles.
To add on, folding rollators are the best when it comes to moving and storage. This rollator folds easily to fit in corners and car trucks. Moreover, it has a storage basket that comes in handy to carry your essentials.
Pros
· Easy to grip handbrakes
· High maneuverability
· Padded backrest and seat
· Easy folding
Cons
· Open storage basket
· Might be big for portability
8. Nova Medical Vibe 6S Steel Rolling
Nova Medical is known for the best rollator walkers for elderly. Vibe 6S comes with standard features at a great value. With strong yet lightweight frames, it's the best rollator walker for elderly. Vibe 6S has 6-inch wheels with steel frame making a statement of style, colorful and reliable features. In addition, the rubber wheels are long-lasting, both for indoor and outdoor use.
Nova vibe 6S brakes are designed for maximum comfort and control. You require minimal hand grip. When parking, just apply a gentle push downwards and pull upwards to release. This gives you full control of your movement.
Also, vibe 6s has 2 inch padded seats, comfortable, long-lasting, and easy to clean. Note that the maximum user weight is 300lbs. Additionally, there is a spacious zipped storage bag, to carry personal items securely.
Pros
· Adjustable handle height (32.25"-36.5")
· Spacious storage
· Easy to clean seat
· Feather-touch handbrakes
Cons
· Fixed seat height, 22inches
· 300lbs user weight
9. Medline Premium Empower Rollator
Medline empower rollator is one of the best rollator walkers for elderly. Firstly,it has microbial protection, giving you a go companion without sacrificing safety. Microbar antimicrobial protection is fitted on the backrest, handles, and seat to prevent lifetime odors and stains, resulting from mold, bacteria, and mildew.
Secondly, the memory foam seat allows you to seat where you are comfortable. Moreover, the padded seat back flips front-wise or backward, so you can sit facing either direction.
In addition, the seat flips up to create space you can walk into. This gives you stability and more access to your standing tasks. If you need to store or carry around, the frames fold flat, handles fold in, and wheels completely rest for easy transport or storage.
Pros
· Simple height adjustment
· Cushioned hand brakes and handles
· Wide seat
· Convenient cup holder
· Under-seat storage
· Steel frame
Cons
· Doesn't lock in the folded position
· Height adjustable up to 6'4 high
· Up to 300lbs user weight
10. Vive Rollator Walker
This folding rollator by Vive ranks among the best rollator walkers for elderly, especially if you need to carry it around. It uniquely folds up, the front wheels are easily removable, while rear wheels' fold upwards, to fit in your car trunk or back seat.
The braking system is also very important for your safety. However, Vive rollator has ergonomic handles accompanied by easy to apply brakes. You can use the brakes when you are not rolling or need to slow down.
Additionally, the rollator has a storage bag, and a cane/umbrella holder. You can store your items in the bag securely as you walk around. Unfortunately, the bag can only be accessed from the front only. Finally, the Vive rollator comes with a comfortable seat with a backrest. You can comfortably stroll and rest wherever you want.
Pros
· Spare sport front wheels
· Removable front wheels
· Foldable for portability
· Adjustable handles from 31"-36"
· Dual braking system
Cons
· Supports up to 300lbs
In conclusion, you never know how much you need a rollator as your walking aid until you get one. To get the best rollator walkers for the elderly, it's advisable you look for comfort, reliability, and maneuverability features of the walker.
From the above discussion, you definitely know what to look for in a rollator. Also, we have highlighted the top 10 best rollators in our list, get your best.