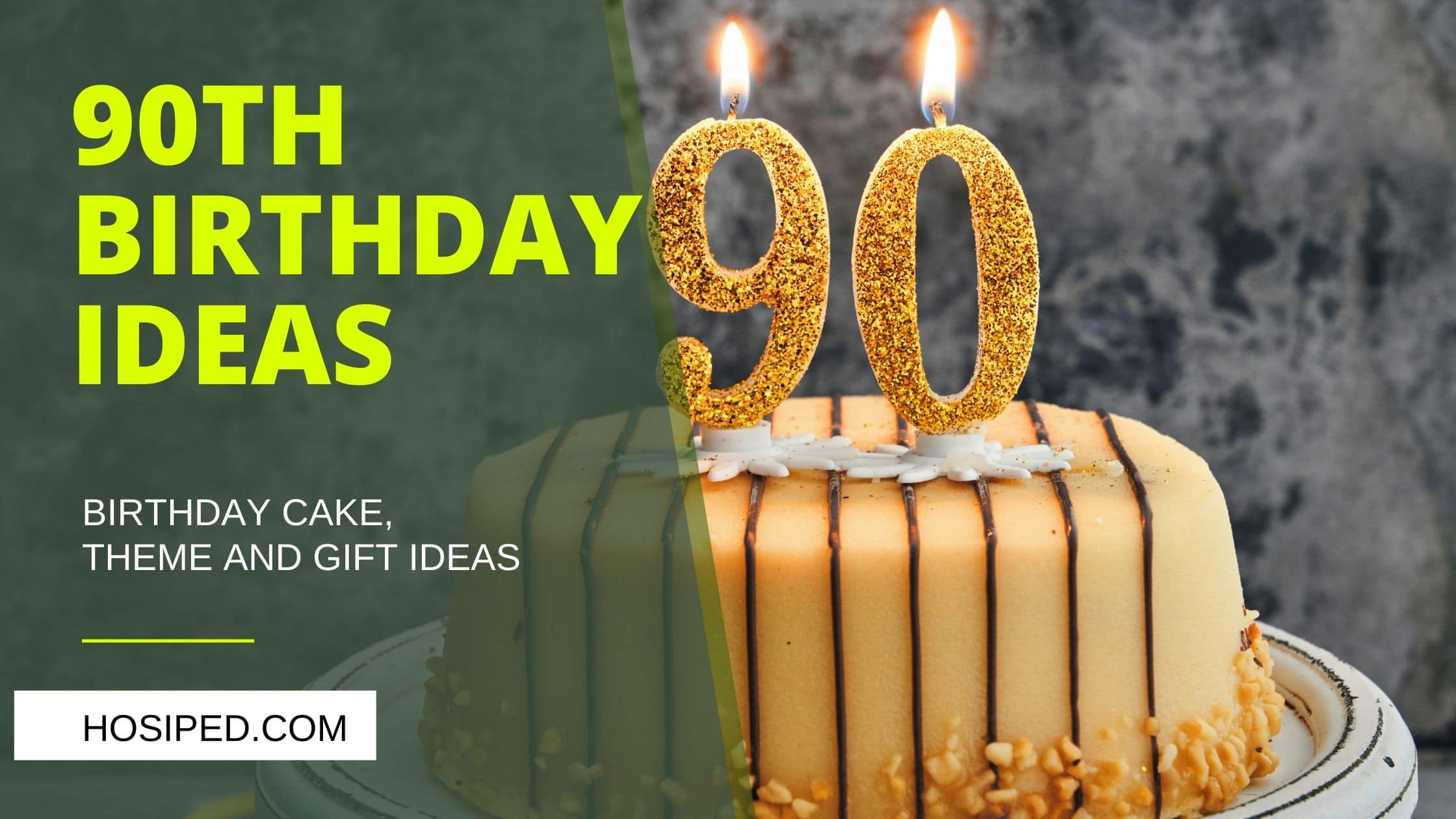 A 90th birthday is a great milestone that calls for celebration. Oh, not just a mere celebration but a grand celebration. Whether you are planning a 90th birthday party for your grandparent, parent, or a special friend, the guest needs to be celebrated with a memorable occasion.
Turning 90 is definitely a big deal, so you need to celebrate in style. Planning for such a special occasion can be tough, but we got your back with amazing cake designs, birthday themes, and birthday gifts.
90th Birthday Ideas -Cake Designs
90th birthday is a great milestone that calls for celebrations. Whether you are having friends and family gatherings or a big party, here at hosiped, we have great 90th birthday cake ideas to inspire you.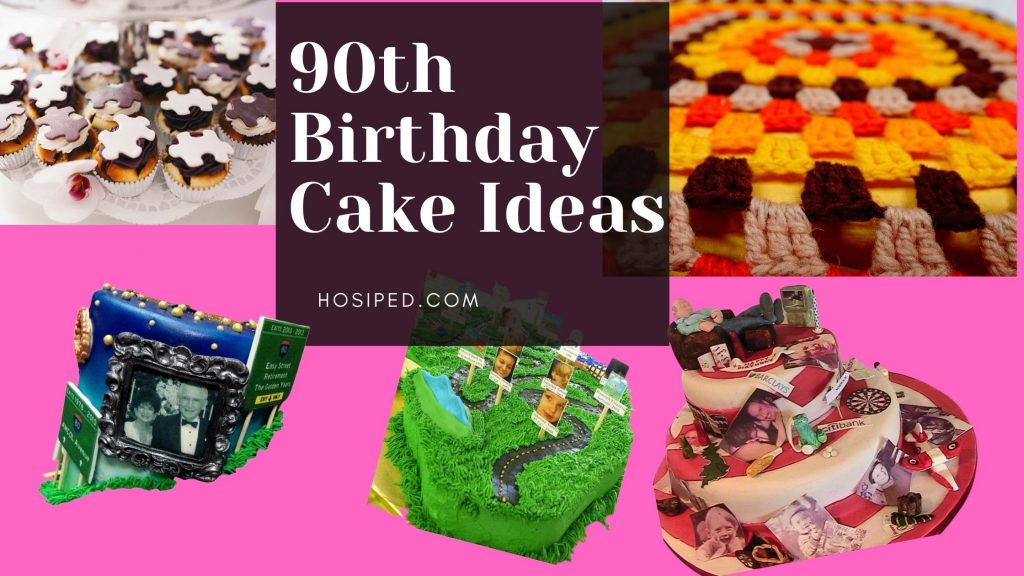 1. Heart Life Journey
This life journey cake helps you to appreciate your loved ones for all the roles they have played in your life and others whom they have blessed. Make sure to add delicious icing and heart-warming messages. This cake will move your loved ones and guests, with a watery mouth and teary eyes.
2. Puzzle Cake
Family puzzle nights with grandpa, grandma, dad, or mommy are the best nights. This cake will bring back memories of the great game nights. However, this theme is great for people who love spending time with family and friends playing stimulating games.
3. Crochet cake
Make a cozy crochet blanket cake for a 90-year-old grandma to enjoy. To make it more attractive, add tasty icing and decorative yarns balls on the top. Definitely, everyone will enjoy this.
4. Cake with Family Photos
With this cake, you can feature your loved one family members, major milestones, or events you've attended together. This is a brilliant cake idea for a 90 old. Alternatively, you can use the cake topper of a close family friend instead of using photos.
5. Family tree
Since this one is the greatest 90th birthday, you can make a delightful family tree cake design. Consider mentioning all their closest family members on the cake.
90th Birthday Ideas- Theme
Your bodies undergo some changes when you are 90 or almost 90 years. This makes it hard for some people to engage in vigorous party activities. So, this can make it difficult to plan for one. Fortunately, there are some brilliant ideas that are family-friendly and fun for everyone.
1. Dinner Party
A nice dinner party with family and friends is a great idea for someone turning 90, although it involves sitting down. One advantage is, it's easy to plan and prepare in one room with wonderful decorations. However, this is a nice setting to spend time together and be happy.
2. Tea Party
A tea party is a simple and flexible great idea. Firstly, this party can be set anywhere. On a sunny day, you can choose to host it in the park or backyard, whereas in winter or on chilly weather, you can have it indoors.
Also, you can choose to host it at home or a local tea room. This is a perfect time to catch up on old memories, exchange gifts, and enjoy afternoon tea.
3. Life Throw Back Party
When someone reaches 90 years old, they definitely have so many life achievements and adventures. This is why a colorful birthday is a perfect time to celebrate their achievements. This whole idea can be pulled out at home with friends and family.
One of the greatest ideas is creating a slide show presentation and projecting it through a projector. Also, you can make a photo book or scrapbook with past invitations, letters, awards, and any other that will bring back some good memories. This will bring everyone together to celebrate the 90 years.
4. Garden Party
This is a perfect idea for the summer or spring season. You get to celebrate your loved ones while basking in the sun. More so, you can choose to either make your own food or hire catering services for the event.
To add more juice, you can set up nice picnic tables with floral décor. This is a nice setup for a photo session.
90th Birthday Gifts Ideas
If you are wondering what to get for your 90-year-old mum, dad, grandpa, grandma, or your loved one, there is definitely something for everyone. Something that makes them feel special having grown that old. It can either be sentimental gifts or gadgets to help them with their day-to-day life.
1. Anti-Lost Item Tracker with Key Chain
This is a present the elderly can use immediately because at their age forgetfulness is irresistible. This item helps the elderly find commonly misplaced items like house keys, remotes, and glasses. Additionally, you can hook this tracker to the pet and know where it is anytime its location is activated.
2. Massage Gun
An innovative deep tissue massage gun is a brilliant gift idea to a person you care about. This device will help to relieve pain and reduce fatigue. No doubt they will most likely love this.
3. Digital Calendar Day Clock
This clock will cater for time matters by spelling out the month, day of the week, and date uniquely with bold large letters. This present comes in handy since as they grow old their visions can dim.
4. Feet and Leg Massage Machine
Illness, stress, wear, and tear can lead to several legs and feet problems. A massage machine will help to manage ailments and find relief. However, you should note this machine caters to the calf, feet, and legs simply but professionally.
5. Rollator
Aging comes with several difficulties, one of them is walking, especially for long-distance. This creates the need for a walking aid. A rollator will come in excellently to enhance their independence walking around, and doing simple tasks while standing.
In conclusion, it is always good to celebrate the seniors as you create memories. The best way to do it is making it memorable and hard to forget with brilliant 90th birthday ideas. From meaningful cake designs, colorful birthday themes, and memorable birthday gifts.