Best Reacher Grabbers for Handicapped People
If you are looking for the best pick up tool for elderly to help you around the house and for waste management in the garden, then the Unger Professional Nifty Nabber is the thing you should buy. Measuring 36 inches, you will be able to enjoy this reach extender that is also fitted with a magnet so as to pick even the tiniest of metal objects such as car keys or earrings off the ground. It has an ergonomic grip that is ideal even for those with muscle stiffness and has a good gripping pair of jaws that hold on tightly at the objects you want to pick off the ground or overhead you.

May 29, 2023 4:52 am

Amazon.com
Last update was on: May 29, 2023 4:52 am
When I was a young, I used to get easily irritated when my grandmother would call me when I was playing with other kids only to find out that she wanted me to pass her something that was just near her. By then, little did I know that she had mobility issues! She had just had a back surgery and so bending to pick things from the ground was too much work for her and it would also cause excruciating pain. Growing up and working with people with people living with disabilities, I have come to find out that there are reacher grabbing tools that such people can use. Today, am proud to write that my grandmother is using one of these reacher grabber tool for handicapped and she does not have to call kids to ask them to pass her things that are within the reach of the stick.
Top 5 Best Extra Long Reach Grabber Tool for Handicapped and Elderly People
As age and ailments such as Parkinson's disease, arthritis and stroke creep in, you find that you are unable to do the things that you were doing with lots of ease. All these factors limit your mobility. One of the things that you will be unable to do is to reach out for things that are off on the ground or way overhead or just far away from you. Say for example that you want to reach out for a sweater from your wardrobe, a pair of socks from a rack or maybe a book on top of your shelf. You will find that you are either too tired or limited in mobility to do these things. So what can you do? You can use reacher grabbers that make the process easy to do.
In this web page, we shall be looking at the best reacher grabbers for handicapped people that you could use. So let us delve into the list of the best reachers for disabled or even elderly people.
Unger Professional Nitty Grabber
Check Lowest Price on Amazon
The Unger professional Nitty grabber has to be the best reacher grabber tool that every elderly or disabled person would ever wish for. After using it, we found that it was an ideal fit for people who want to reach out for things on the ground or just overhead them. Measuring 36", it gives you enough arm length to reach out for far things. The grip is strong and has rubber endings to hold tightly onto things. It also comes with a built-in magnetic system so that you can use it to clean out metallic things and pick them from places where they ought not to be.
The material is light-weight and so it will not be an extra weight to your disabled or elderly patient who wants to use it. The ergonomic grip enables the holder to do so without letting go.
What we loved about the Unger Professional Nitty Grabber
Lightweight allowing you to lift objects without having to realize the weight of the grabber itself
Rubber gripping on the edge so that you can hold on to things tightly.
Magnetic built-in system so that you can grab metallic things such as keys, tins from the ground or even under seats or tables.
Ergonomic grip where you hold onto with a clamp to grip objects
Long enough. I actually found out that you can either order the 36" or the 48" grabber depending on your needs.
Allows your elderly person to pick things from an upright position without having to strain their backs.
Rust-proof.
What we did not like about it
The lightweight aluminum material seems like it would break easily if it fell or if a malicious person decided to bend it.
Arcmate EZ reacher: When you want a versatile reacher grabber that is foldable
Check Lowest Price on Amazon
When you want a reacher with laser focused precision that can reach out for even the tiniest of things such as a dime and for things as wide as 4.5", then you only need to get the Arcmate EZ reacher. The gripper is foldable for easy storage and can reach for the tiniest of objects while still being able to pick hot things.
What we loved about the Arcmate EZ Reacher
Can pick hot objects from the oven without you fearing that it will melt.
Can pick even the tiniest of dimes.
Can lift up to 5lb objects.
Foldable for easy storage.
What we did not like about the Arcmate EZ reacher
It is slightly smaller than the Nitty Grabber since it only measures 32"
Sammons Preston Reacher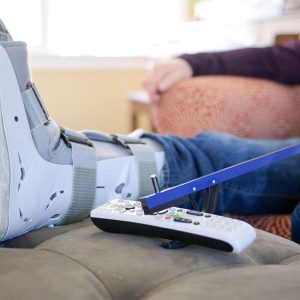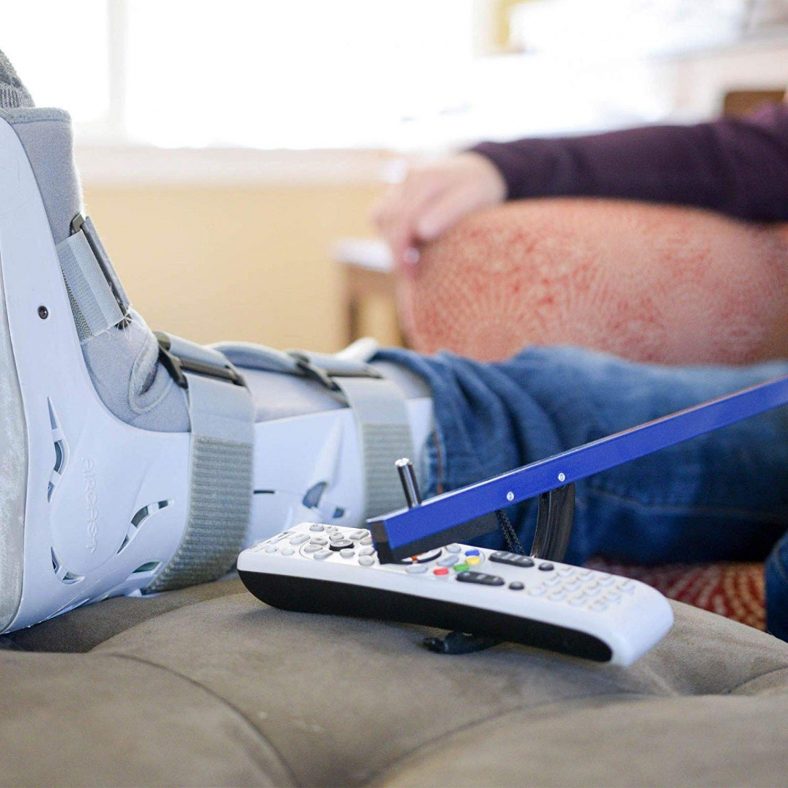 Check Lowest Price on Amazon
Lightweight and measuring 26", the Sammons Preston is another good fit for patients who want to hold out things that are a little bit far. The one downside that I found with the Sammons Preston reacher is that one, it is made of aluminium which would break easily therefore not very durable. Two, it is only 26" which is way shorter than the other models that we have looked at above.
It is however a great outdoor tool when you want to reach out for dirty litter and put them in the right place.
What we loved about the Sammons Preston Reacher
Lightweight and easy to use
Good for outdoor use when you are cleaning up your compound.
What we did not like about it
Shorter than other models of reacher grabbers
RMS 32" Reacher Grabber for Elderly
Check Lowest Price on Amazon
Another good reacher is the RMS which has magnetic tips to hold onto metallic objects without letting them go. It also assists in dressing owing to a post on the side. The yellow clip will fasten onto your canes, walkers or wheelchair depending on what you have.
What we loved about the RMS reacher grabber
Long enough measuring 32" allows you to reach for things far away
Allows you to fasten it on wheelchairs or walkers
5. Vive folding reacher grabber
Check Lowest Price on Amazon
Another good pick when you are looking for a foldable reacher grabber for handicapped has to be this vive reacher grabber. Measuring 32", you will appreciate the foldability feature as you are able to save on storage space. The grip is strong and really effective.