Compare Liftware versus Gyenno Stabilizing Spoon
We found the Gyenno spoon to be the best Parkinson's spoon for counteracting your hand tremors. It's battery can do a whole meal without you having to recharge it. It also comes with a nice travel bag so that you can tuck it in while going out for dinner dates without being embarrassed that your tremors will show.
Gyenno vs Liftware Spoon
Compared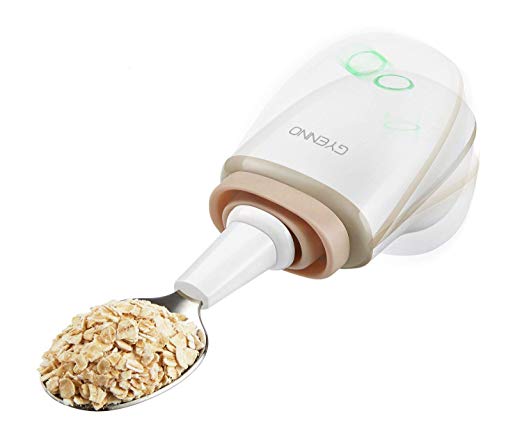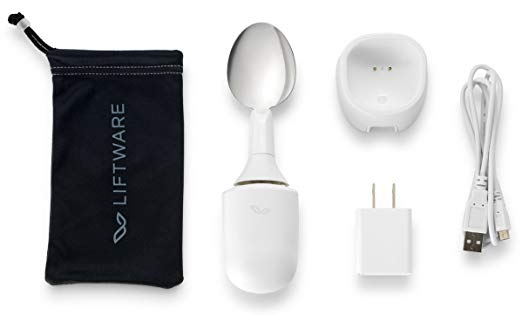 Tremor Counteraction
in percentage
Comes with travel Pouch
Versus subline
Time to use when charged
When fully charged
---
---
More than 10 Million people worldwide are affected with Parkinson's disease as well as essential tremors according to the Havard Medical School. The two conditions affect the central nervous system thereby rendering those diagnosed with the disease helpless. Even though there is no known cure at the moment, those affected can still lead a normal life thanks to the creative applications from the latest technology.
Through innovations in recent years, significant strides in helping those suffering from Parkinson's tremors and essential tremors have come out with an effective way of diagnosing the disease and mitigation of its symptoms.
That is why Liftware and Gyenno Parkinson's spoons have been instrumental in ensuring that the patients experience little or no difficulties when feeding themselves.
Lifware steady spoon

See price on Amazon
Counteracts your tremors by 70%
Comes with a carry pouch
Keeps the charge for one hour
Sleek, modern design
Liftware has transformed the way of life for those with Parkinson's and essential tremors ever since its inception in 2013.
The cutlery has gone an intensive research and its capability to help those affected by the disease has been established.
As a matter of fact, Liftware is a stabilizing handle fitted with either a spoon or a fork. It is equipped with sensors and motors which together counteract the effect of tremors by 70 per cent of the afflicted people.
This feat enables them to take their meals independently with a lot of comfort and confidence unlike before.
2. Gyenno Smart spoon

Counteracts tremors by 85%
Comes with a carry bag
Sleek design
Keeps charge for 180 minutes
On the other hand, there is yet another smart cutlery from Gyenno Technologies which counteracts tremors as well.
The Gyenno stabilizing spoon was launched recently in 2016 and it is claimed that this state-of-the-art smart cutlery is capable of countering an impressive 85 per cent of tremors in those individuals affected with Parkinson's disease and essential tremors.
In fact, the award-winning cutlery is equipped with the cutting-edge technology to collect data regarding tremors when those afflicted are using it to feed themselves. This collected data enables the stabilizing spoon to "learn" the best and the most effective ways it can perform better for those using it.
At the same time, the data collected is compiled into a substantial database for scientists and doctors to refer to it in their research. Learn more about the two products in the sub-sequence paragraphs for you to have a better insight into these essential smart cutleries that counteracts tremors among individuals.
Check Lowest Price on Amazon
---
Liftware comes in a selection of stabilizing and levelling attachments and handles that are designed primarily to assist those people who experience hand tremors or limited mobility in their hands and arms. This product helps those with tremors to retain their confidence, dignity and independence. However, they come in two categories such as Liftware Steady and Liftware Level.
Liftware Steady
Liftware Steady includes an everyday spoon, soup spoon and fork. It is designed to help those with hand tremor-those with either Parkinson's disease or essential tremor-to eat with ease.
Features
Adapts to the hand tremor
Liftware Steady is designed to electronically stabilize the attached utensils in such a way that they only shake 70 per cent less the hand for those with tremor. As such, there is less spillage with a lot of focus on enjoying the meal.
Smart cutlery
The hand for stabilizing has sensors which detect hand motion triggering the small onboard computer to distinguish between the undesirable tremors from the usual hand motion. The computer helps in destabilization by directing the motors located within the handle to move the attached cutlery in the opposite direction to counteract any detected tremor.
It is easy to use
Liftware Steady comes in two parts which include the stabilizing handle and the utensil attachment. This means that you can connect the attachment and let it turn on automatically for you to enjoy your meal. If the device runs out of power, you can dock it to charge.
The starter kit
Liftware Steady Starter Kit comprises of the soup spoon attachment and a stabilizing handle. Any other additional attachment is sold separately.
Extra attachments
Other Liftware utensil attachments are sometimes used and they include the following:
Soup spoon attachment
Everyday spoon attachment
Fork attachment
Spork attachment
Liftware Level
It uses an electronic motion stabilizing technology which keeps the utensil level even if the hand or arm twists or bends in any direction.
Features
It is smart
The levelling handle has sensors which detect changes from the usual movement of the hand in 3D. In order to level the attached cutlery, the onboard computer prompts the two motors within the handle to bend a flexible grey joint which in turn keeps the attachment at an angle of 90 degrees to make it stable.
Easy to use
The device comes in two parts which are the utensil attachment and the levelling handle. You can connect the attachment to make it turn on automatically for you to enjoy your meal.
The Starter Kit
The Starter kit for the Liftware Level includes the soup spoon attachment and the levelling handle to serve those with tremors better.
Extra attachments
Additional Liftware cutlery attachments are:
Levelling handle
Soup spoon attachment
Fork attachment
Pros and cons
Pros
Very reliable
Easy to use
High-quality product that works perfectly
Cons
The spoon is smaller
Somehow costly
Customers' Lifware steady spoon reviews
"The very first time he used it, he was happy. He was able to eat cereal without spilling", (Amazon customer, February 14, 2018)
Check Lowest Price on Amazon
---
The Gyenno Stabilizing Spoon offers a 360-degree stabilization solution and it also offsets 85 per cent of all unwanted tremor from the intended movement of your arm or hand. The device is equipped with an intelligent high-speed control system which provides you with fast as well as accurate stabilization.
Features
Easy to use
It can automatically switch itself on and off to significantly reduce the consumption of power.
Comfortable
Gyenno Stabilizing Spoon weighs about 130g which makes it easy to hold when using it. Its ergonomic design is fully adapted to general hands use and easy to hold.
It is sustainable
When fully charged, Gyenno Stabilizing Spoon can serve you for nearly three hours of continuous use. However, the battery is replaced and can be bought separately.
Suitable for all meals
The Gyenno Stabilizing spoon offers various options for different utensil attachments which are designed for various foodstuffs. Additionally, you will find it easier to change and clean those attachments. You can, however, choose from everyday spoons to a fork attachment depending on your preference.
Simple design
The device has a simple design but it is not actually simple in its functionality where it integrates some intelligent control modules for higher performance and comfortable user experience.
Tips on using the gyenno stabilizing spoon
The gyenno spoon has a red LED light that blinks when it needs charging. You should allow 90 minutes for the spoon to be fully charged and it will show a green light when it is well charged.
Cleaning the handle should not be done with water since it is an electronic device. Instead, you should use antibacterial wipes to disinfect and wipe it clean.
Pros and cons
Pros
Ergonomic design for easy use
A wider range of motion
An extended battery life
Cons
You need to buy batteries separately
It is expensive
Final verdict
While both devices are of great importance to those affected by Parkinson's and essential tremors, Gyenno Stabilizing Spoon seems to be a great choice. This is attributed to its unique features such as 360-degree stabilization solution and offsetting 85 per cent of all the unwanted tremors.
Customers' Gyenno spoon reviews
"Greatly improved my Dad's quality of life", says Randy (On Amazon, March 16, 2017)

"This is a well-engineered and high-quality product, it works as advertised", Steven J Kaiser (On Amazon, July 16, 2017)
References
The Facts about Parkinson's Disease. Havard Medical School. Retrieved from: https://www.health.harvard.edu/diseases-and-conditions/the-facts-about-parkinsons-disease
Essential Tremor. Mayo Clinic. Retrieved from: https://www.mayoclinic.org/diseases-conditions/essential-tremor/symptoms-causes/syc-20350534
Tremor: Is It Essential Tremor or Tremor from Parkinson's Disease? Retrieved from: https://parkinsonsdisease.net/answers/differences-essential-tremor/
A noninvasive handheld assistive device to accommodate essential tremor: A pilot study. Wiley Online Library. Retrieved from: https://onlinelibrary.wiley.com/doi/abs/10.1002/mds.25796