Drive medical manual hospital bed, brown 36" Review
The drive medical manual hospital bed whose basic color is brown is another great manual bed that I would only advise you to choose if:
-You are operating on a low budget
-Your patient is semi-mobile, maybe recuperating after an injury and can therefore move to adjust the bed on their own
-If you have a caregiver(or are one) who has time and patience to adjust the patient's bed everytime they demand so.
After the admins in the charity centre agreed to buy hospital beds for the patients within the institution, the drive medical manual bed was the first that we bought on Amazon.
Drive medical manual hospital bed, brown 36"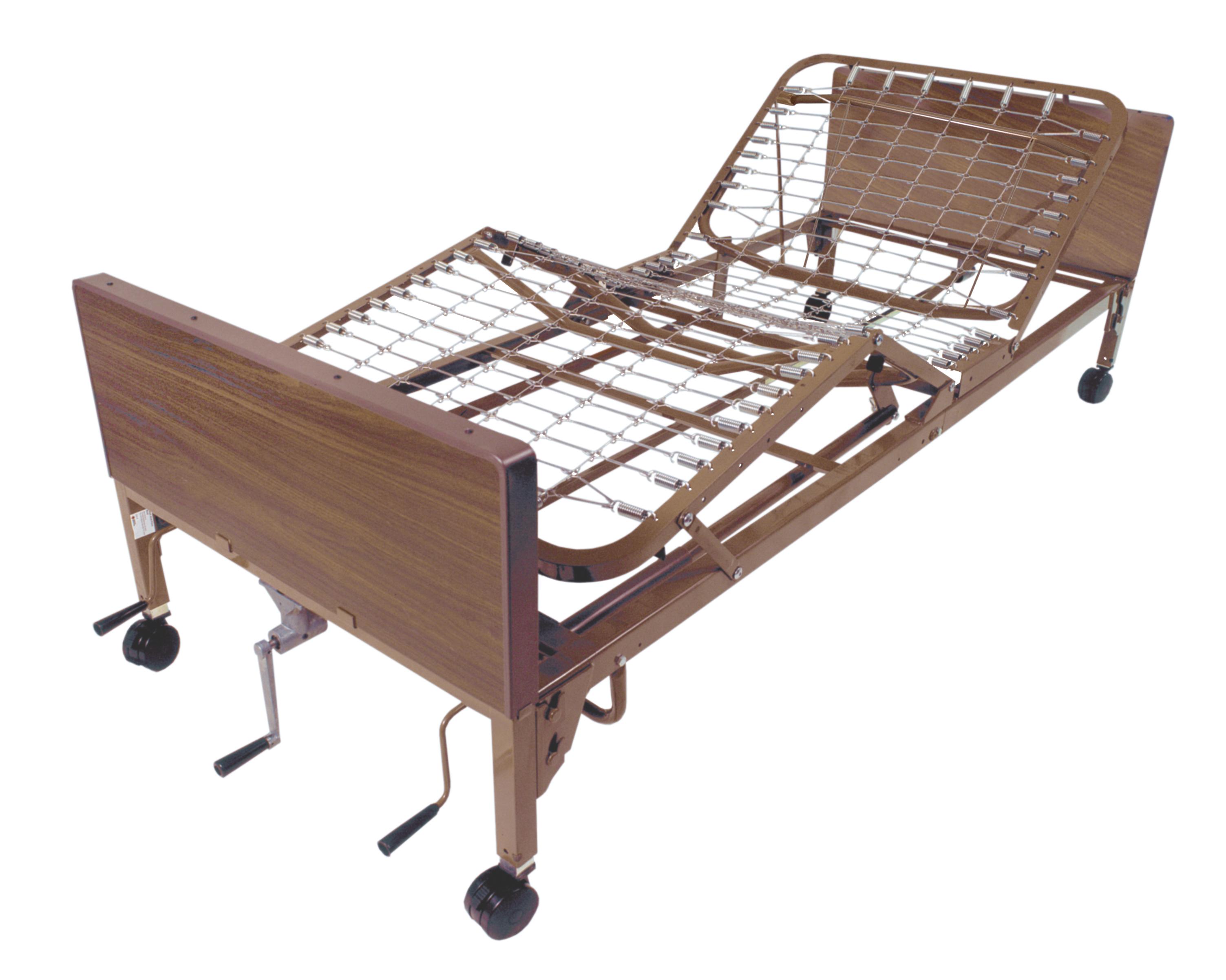 Features
Has two cranks at the foot of the bed for easy adjustment
Zinc Coated bed deck
The primary product material is steel
Measures 89 x 34.9 x 35.2 inches
The bed has a maximum height of 15.5″ when it is fitted with casters.
Can support a weight of upto 450lbs
What I loved about the Product
The bed had a high weight capacity. Our patient was a beefy guy who would have broken any bed whose capacity was less than 400lbs. So I loved it that the bed could accommodate a heavy person.
The bed is really durable. Ten years later, the bed is still there. Though we have had to replace the headboard with Invacare, the rest of the bed is intact.
Does well with innerspring and foam mattress.
Everytime we had a challenge with the bed for example when the headboard broke, the support team at Drive Medical was very tactfull and they responded to our queries with a high sense of professionalism.
Very easy to clean and maintain.
Head and foot ends can be replaced with Invacare or even Sunrise incase you need a change.
The bed reaches a min 12.5 inches and a max 19.5″ which is good for patients as they rest and adjust to different positions.
Easy to assemble.
Durable casters.
What I did not like about it
Despite the awesome features on the bed, there were a few things that I did not like about it.
Since we first gave the bed to a senile man, he always forgot to draw back the cranks at the foot and he would get hurt all the time. We had to give him a different bed with pendant control since the crank would kill him and it felt bad seeing him stumble on it all the time.
As always, a manual bed can never beat an electric one. We had to go to the foot of the bed all the time to adjust bed height, foot and head positions all the time.
Frequently Asked Questions about the Drive Medical Manual Bed, Brown 36″
What Mattress should I use with the drive medical manual bed?
Any mattress will do for your bed. You can either use a foam mattress or a innerspring. They fit both well.
I want to replace my headboard and I think the Invacare would be the best, can I go ahead? Are they compatible?
Yes, you can go ahead. Drive Medical manual bed parts can be replaced with Invacare or Sunrise parts.