We recently had a new patient coming into our elderly home. He is morbidly obese and also recently had a back surgery. During the assessment, the only things that I could think of giving him were a freedom wand since he would not reach his butt to wipe after emptying his bowels , some incontinence guards for the morbidly obese since he was having a problem controlling his bladder and we also made arrangements to have a toilet seat riser since he could not bend that low at the toilet. And then I thought that I was done but how wrong I was !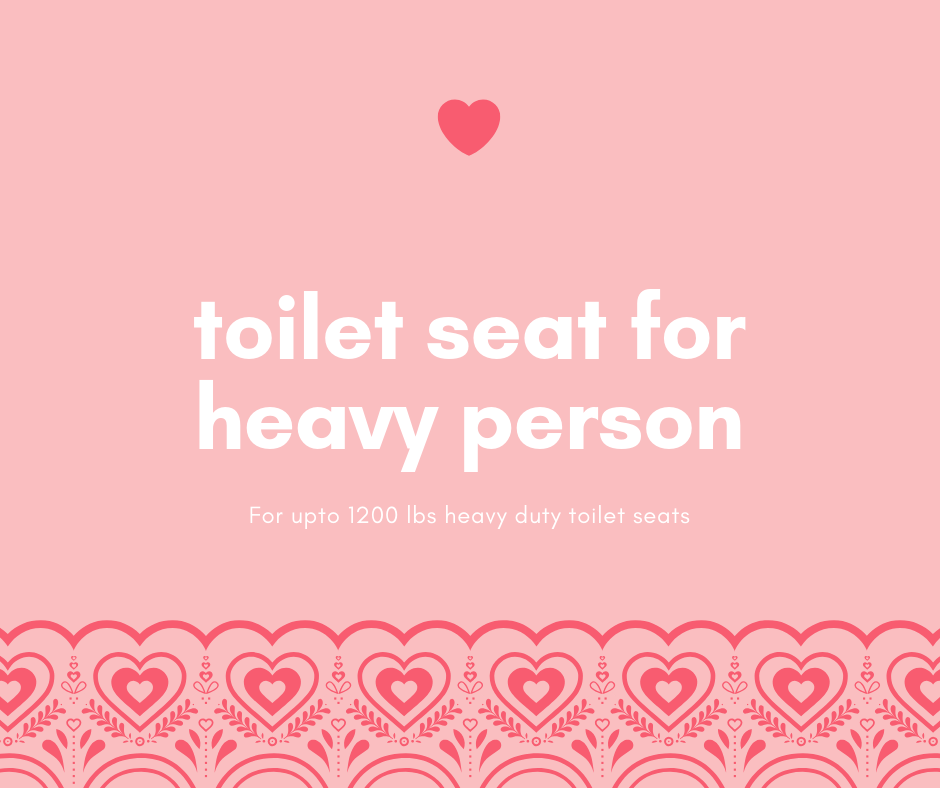 A week later, he came with his face fallen, his ego badly tortured and reported to me that he had just broken the toilet seat. And that came as the biggest shock of my life because I never knew that obese people could be so heavy as to require heavy duty toilet seats lest they broke your normal standard toilet seat.
So my first instincts was to see the damage that had been done on the toilet seat. And yes, it had given in to his weight; it had crumbled and lay there in pieces—a testament that it could not hold his weight anymore. After this, I consoled him telling him that we would fix everything and that he should not worry. Well, he was somehow heartbroken and embarrassed at the same time that the toilet seat could have gotten broken because of his sheer weight. He even promised to replace the toilet seat but I would not allow him.
Later on, I did some extensive research and found out that our normal standard seats only support a weight capacity of upto 250lbs while this guy obviously weighed about 400lbs. So he needed something stronger. So I scoured through the internet and was lucky to find a few recommendations of the best toilet seats for heavy people.
A few points that you need to know about the toilet seats for heavy people
Weight Limit–You need to look for a toilet seat that is going to allow for the weight of the person and even surpass it. Say for example that your patient weighs 350lbs, then you need to look for a toilet seat that can support a weight of upto 400lbs
Cost–Toilet seats for big people will cost at least twice as much as your standard seat so you should be ready to dig a little bit deeper than how you would have dug when looking for standard normal toilet seat.
Convenience–The toilet seat other than allowing for the weight of the big person should also be convenient as to allow the person enough space where they are sitting on.
Height– Most obese people are going to have a problem sitting low on standard toilet seats and therefore the ideal toilet seat should have some extra inches in height so that they do not bend so low in order to feel comfortable.
So let us look at some of the heavy duty toilet seats:
Big John 3 Open Front Toilet Seat
One of the most renowned toilet seats for obese people is the big John 3 seat that can support a maximum weight limit of 1200 pounds. Now with such a weight limit, even the heaviest man according to the Guinness book of records would still not break it up.
Features of the Big John 3 toilet seat
Extra 2 inches raised above the standard normal seats
Strong and durable ABS plastic material
Well contoured at the top for extra comfort
19 inches side to side topping so that an obese person seats comfortably on it. This is a good 5″ more than your normal toilet.
Stainless steel hinges for strength and durability
Easy installation.
Has an open front design so that one can reach and wipe themselves comfortably from front to back without having to rise from the toilet seat.
PROS:
Ergonomic design that allows you to use the toilet without a feel of back pain
Sturdy ABS material that has been proved to be durable. If you are looking for a heavy duty toilet seat that will serve you for life, then this should be your pick
Open front toilet seat design allows you to sit and wipe after emptying your bowel.
Rubber bumpers at the foot of the seat ensure that it does not wiggle no matter how much turn
Weight capacity of upto 1200lbs ensure that all are accomodated
CONS:
A tad bit too expensive
It really takes a lot to install. You might require a whole set of tool kits to have it up and running. If you are not a DIY person, you might have to call up someone to help you do it
Big John 1 w for People Who do not want the Open Front Seat Design
Just like the Big John 3W, the Big John 1 w comes with 19 inches side by side width which is about 5 inches more than your normal toilet. It also supports a weight limit of 1200 lbs. It has rubber bumpers that hold the bowl securely and firmly to the ground so that there will be no wiggling or moving about. It is called the big John 1w because it is the original and first ever design that was made by this company. Later on though, they felt that obese people would like to wipe their butts while they are still seated on the toilet seat and therefore came up with the big John 3W. All the other features of the big John 3W are displayed in this 1w though.
The big John 3 w comes with stainless steel hinges that assure you of maximum strength and durability.
PROS:
Just like the big John 3w, this design is also very ergonomic
Durable ABS material
Contoured design proves very comfortable
Strong stainless steel hinges ensure that it will not crumble even when a person weighing 1200lbs sits on it
CONS:
Expensive
Takes a lot to install and have it up and running
Big John 6W for those who do not want the toilet lids
For heavy people  below 800 pounds who do not want the toilet lids, then the big John 6w is the thing to go for. Another thing that differentiates the big John 6w is that you will find that it does not have stainless steel hinges similar to those found in the big John 1 w and big John 3 w. Nevertheless, it still suffices as one of the best toilet seats for big people.
Features of the big John 6w
Can support a weight capacity of upto 800 pounds
Has a width of 19 inches just like the big john 1w and 3w
Bumpers keep the toilet seat from wiggling when you are using it
1.5″ higher than the normal standard toilet seats
PROS:
Very durable
Good fit for people who are overweight but below 800 pounds
Bumpers ensure that it does not wiggle
1.5 inches higher than your standard toilet seats
CONS:
Cannot support obese who are heavier than 800 pounds
Not very strong hinges
Has no toilet lids