Drive Medical Quick'n Easy Comfort Mattress Review
Drive Medical Quick'n Easy Comfort Mattress Review
So we bought the Drive full electric bed for one of our patients and it would have been only natural to complement it with a drive medical Quick'n easy comfort mattress from the same company.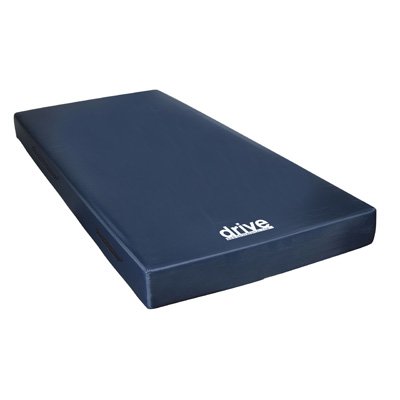 Features
Measures 36 (W) X 80 (L) X 6 (H) Inches which fits well on the Drive Medical hospital bed
Decompresses quickly after shipping so that you can use it immediately
Durable nylon cover which is water-proof
Made of polyurethane foam that offers comfort and is non-allergenic.
What we loved about this hospital bed mattress
The mattress has a non-slip bottom that sticks securely on the bed deck without any movements.
It has a waterproof nylon cover so we did not have to worry of it being soaked by the patients
Durable and as such offers you value for your money
It is soft and comfortable; our patients loved it.
It has a large weight capacity of up to 250lbs so we did not have to worry even with heavy patients.
The mattress core is fire retardant and complies with the 16 CFR 1633 regulations
The mattress was flexible and fitted really well on the Drive medical bed even when we adjusted the head and foot position of the spring decks.
The mattress was easy to clean. All that one needs is a wet towel with soapy water to wipe it and then return the sheets. It also dries quickly.
Works well with the heated mattress pad since we bought it during the cold season and felt that our patients would be suffering from the bone-biting cold draughts of winter.
What we didn't love about the product
Though it is water-resistant, there is something about the mattress that makes it retain the smell of urine from a bed wetting patient. We bought the mattress and our patient wet it. So we wiped it but the smell still remained. We cleaned it with water and soap but the smell was still there. Even using a deodorizer wouldn't work. So my advice would be if you think that it is smell-free then think again. It holds that urine smell all the time.
For a large bed measuring 84″ in length for tall patients,we had to get mattress extenders otherwise the patient would get entrapped everytime or have to curl which is not a good thing.
Safety tips when using the Drive Medical Quick'n Easy Comfort Mattress
Since you value the patient's safety and health, it would be good to make sure that you purchase the following with the mattress
To avoid the patient from falling from the bed, make sure that you have rails, a soft bedside mat or bumpers
To avoid bed entrapment, make sure that you have good padded rails and wedges between the mattress and the headboard.
Since a patient might get hurt when you are using metallic rails, make sure that they are padded or replace them with steep foam bumpers.
If the weather is too cold, you could think about getting electric blankets or padded mattresses. This should however be done where the patient will not crump up the blankets in their sleep since it could result in burns.
Install a bed alarm under the mattress just to know when the patient wanders off unsupervised.